The highly anticipated
Welcome Bundle
is now available in the Hearthstone store. In addition, Blizzard has revealed a special tavern themed card back for those of you who either attend in person or purchase a virtual ticket! The patch also adds Tyrande as a Priest hero skin which can be obtained in a future promotion!
Back to TopTyrande Priest Hero Skin
"You will be able to add the new Hero and a new card back to your collection by participating in an upcoming special promotion."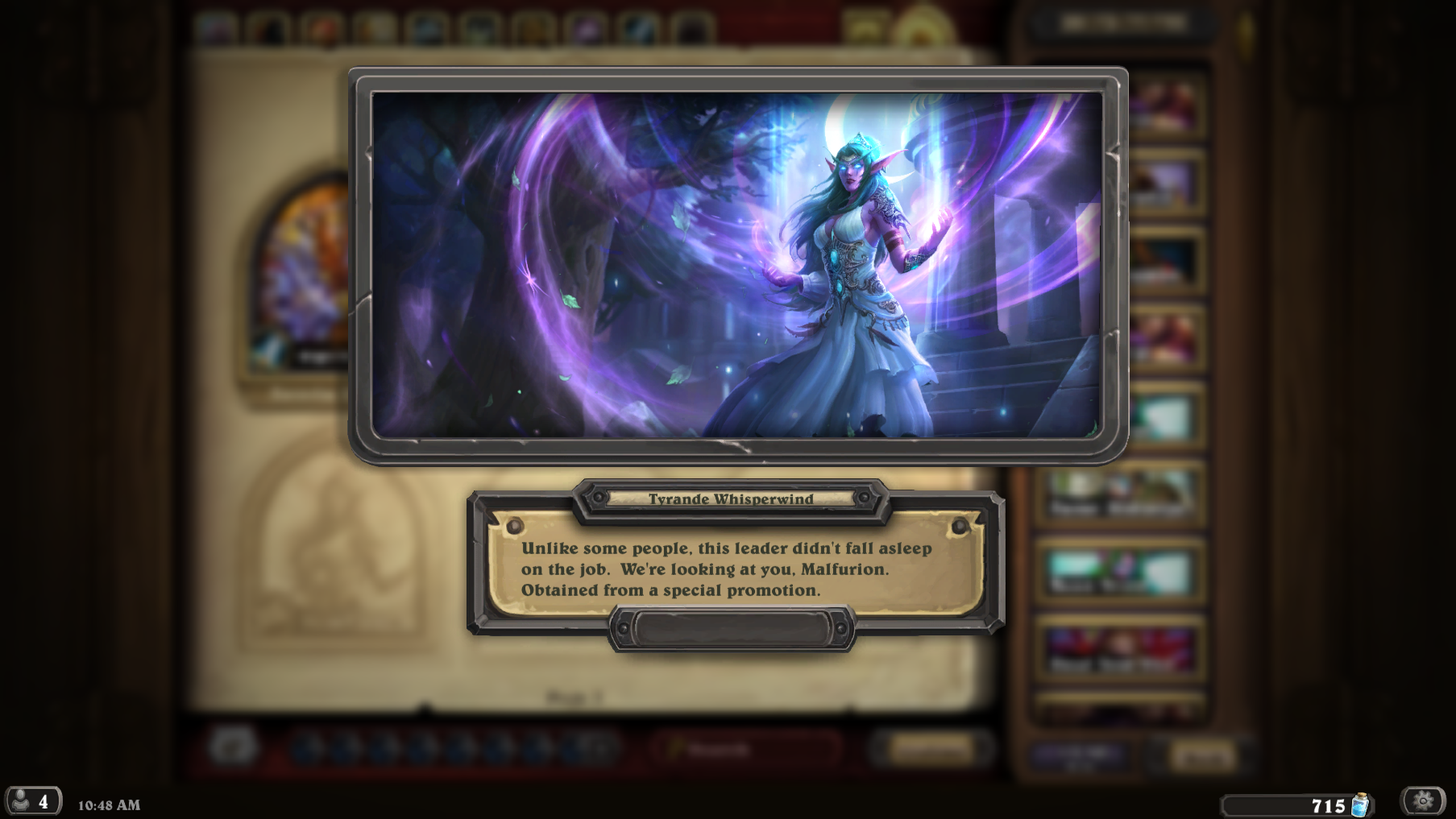 Legion - September 2016

Pie - October 2016

Tyrande - Special Promotion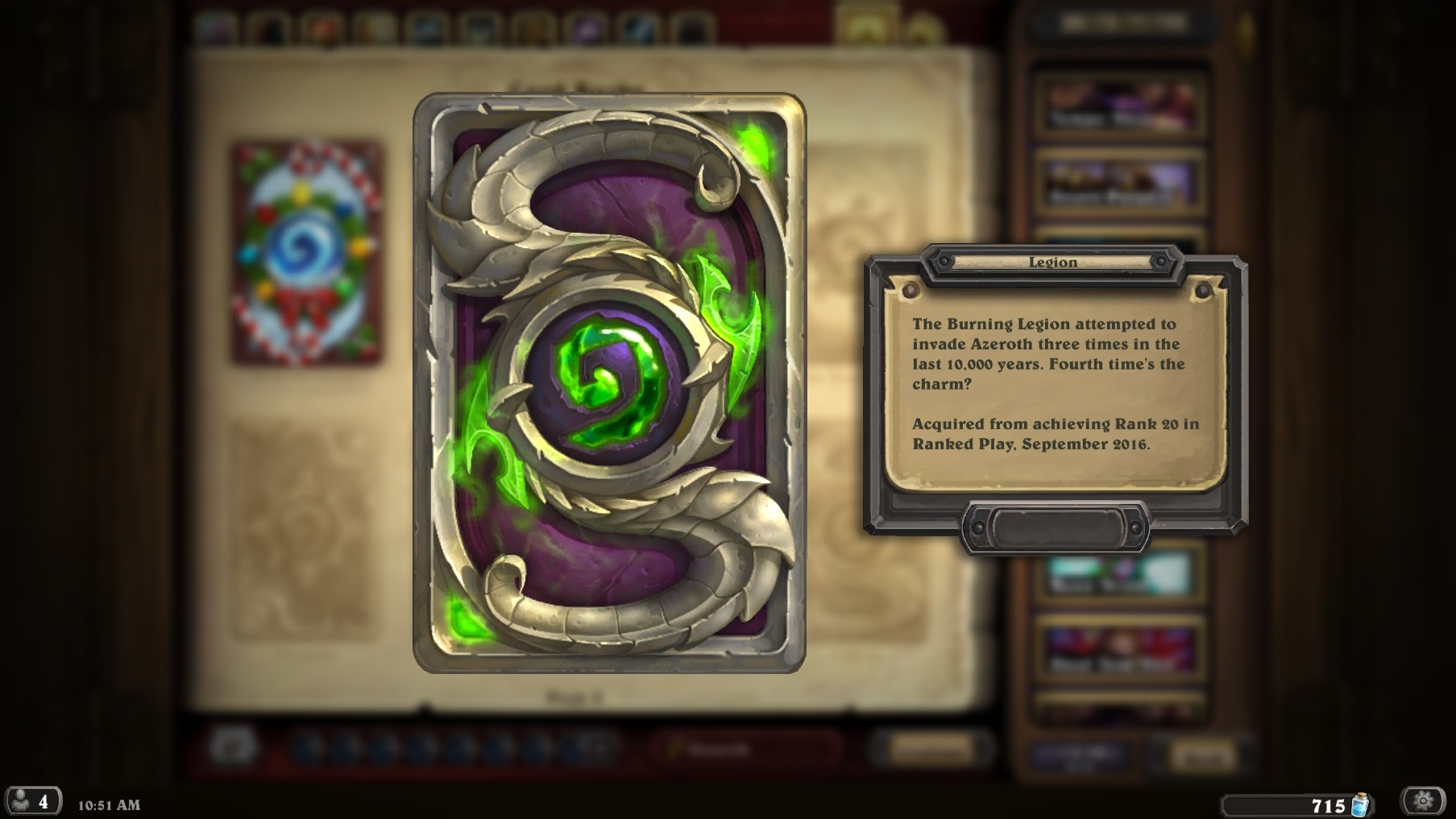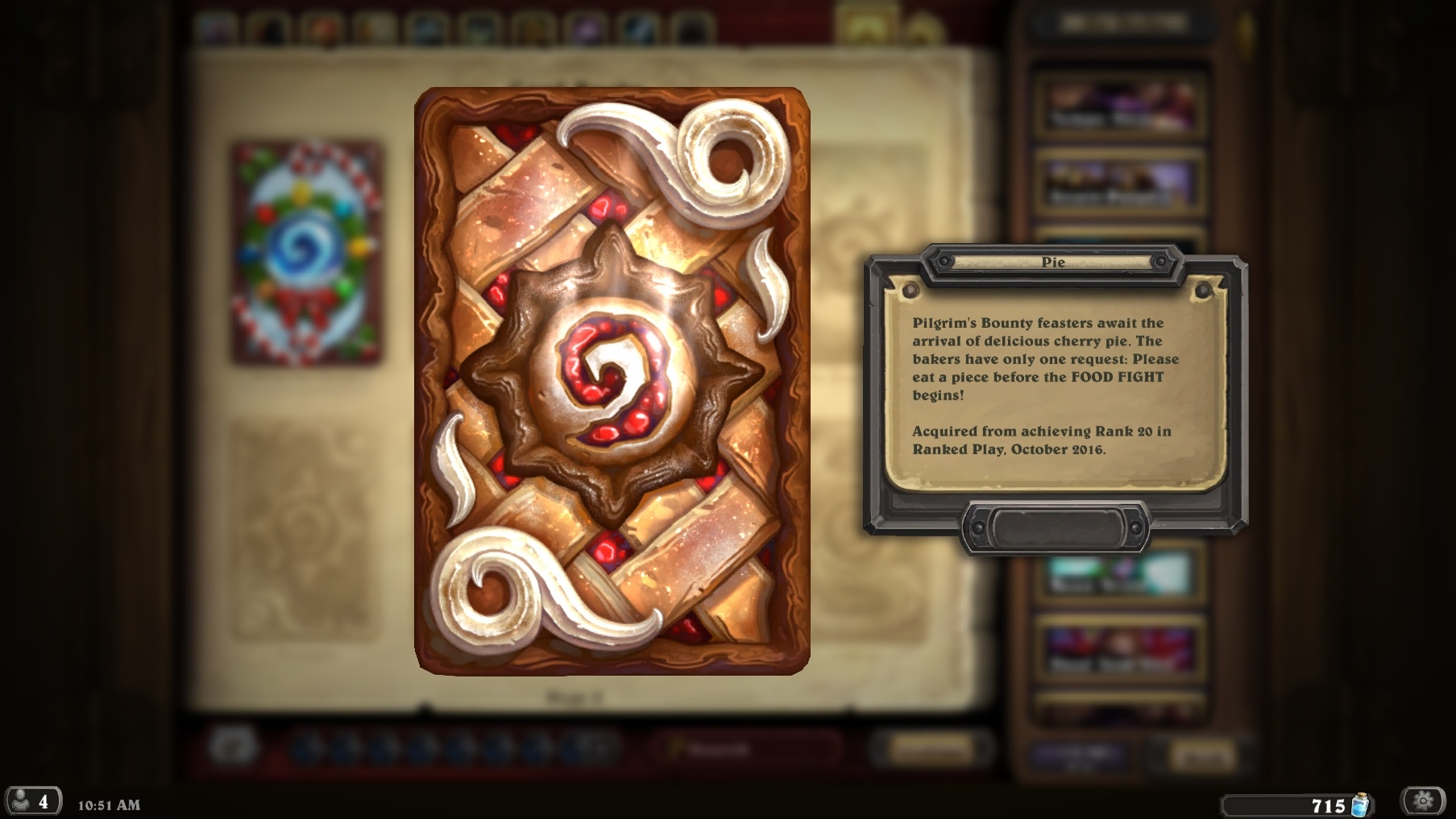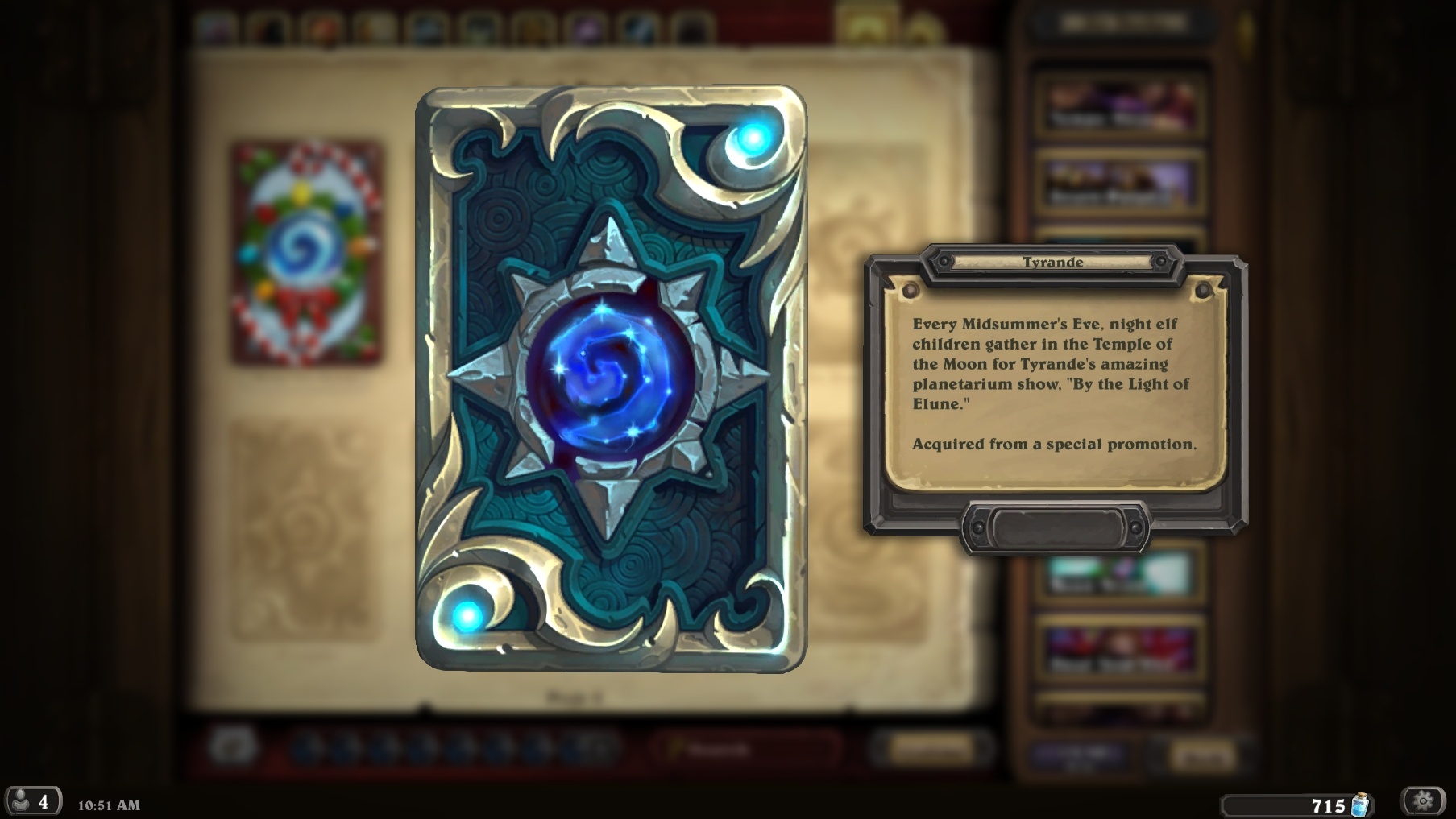 Tyrande comes with a slew of special emotes including Midsummer Festival, Brewfest, Halloween, and much more!
Added VO_HERO_09a_FIRE_FESTIVAL_59: "Happy Midsummer Festival!"

Added VO_HERO_09a_HAPPY_BIRTHDAY_50: "Happy Birthday!"

Added VO_HERO_09a_HAPPY_BREWFEST_55: "Happy Brewfest!"

Added VO_HERO_09a_HAPPY_HALLOWEEN_51: "Happy Hallow's End!"

Added VO_HERO_09a_HAPPY_HOLIDAYS_52: "Happy Feast of Winter Veil!"

Added VO_HERO_09a_HAPPY_NEW_YEAR_53: "Happy New Year!"

Added VO_HERO_09a_HAPPY_NOBLEGARDEN_54: "Happy Noblegarden."

Added VO_HERO_09a_HUNGRY_46: "I could really go for some moon cakes."

Added VO_HERO_09a_KIDS_WEEK_58: "Goddess bless the children."

Added VO_HERO_09a_DAY_OF_THE_DEAD_61: "Moon goddess, bless the fallen."

Added VO_HERO_09a_END_OF_SEASON_49: "The season comes to an end."

Added VO_HERO_09a_PIRATE_DAY_60: "Power Word: Yarr!"

Added VO_HERO_09a_THANKSGIVING_62: "Happy Pilgrim's Bounty!"

Added VO_HERO_09a_VALENTINES_57: "I miss my dear Malfurion."

Added VO_HERO_09a_PARTY_37: "Dance!"
Added VO_HERO_09a_NICE_CARD_BACK_33: "A fine card back!"

Added VO_HERO_09a_BRB_32: "I will return shortly."

Added VO_HERO_09a_FACTION_CRY_44: "For the Alliance!"
Added GAMEPLAY_EMOTE_HERO_06_START_TYRANDE: "My beloved Tyrande."

Added VO_HERO_09a_START_MALFURION: "My dear Malfurion."
Added VO_HERO_09a_Attack_15: "For Elune!"

Added VO_HERO_09a_CONCEDE_06: "It is finished. You win."

Added VO_HERO_09a_GREETINGS_03: "Blessings to you."

Added VO_HERO_09a_MIRROR_START_02: "The goddess is my shield."

Added VO_HERO_09a_MIRROR_GREETINGS_04: "And to you."

Added VO_HERO_09a_OOPS_08: "A mistake."

Added VO_HERO_09a_SALUTE_36: "My respect."

Added VO_HERO_09a_SORRY_10: "Forgive me."

Added VO_HERO_09a_START_01: "Elune give me strength."

Added VO_HERO_09a_THANKS_09: "Thank you."

Added VO_HERO_09a_THREATEN_05: "You will regret this!"

Added VO_HERO_09a_WELL_PLAYED_07: "Well played."

Added VO_HERO_09a_WOW_35: "Brilliant!"
Added GAMEPLAY_EMOTE_HERO_TBMECHWAR01_WOW: ""

Added GAMEPLAY_EMOTE_HERO_TBMECHWAR01_WOW.AUDIOFILE: "VO_GVG_085_Play_01.wav"

Added GAMEPLAY_EMOTE_HERO_TBMECHWAR01_WOW.COMMENT: "The text is in brackets because the VO files is just Annoy-o-Tron's greeting"

Added GAMEPLAY_EMOTE_HERO_TBMECHWAR02_WOW: ""

Added GAMEPLAY_EMOTE_HERO_TBMECHWAR02_WOW.AUDIOFILE: "GVG_110t_BoomBot_EnterPlay.wav"

Added GAMEPLAY_EMOTE_HERO_TBMECHWAR02_WOW.COMMENT: "The text is in brackets because the VO files is just Annoy-o-Tron's greeting"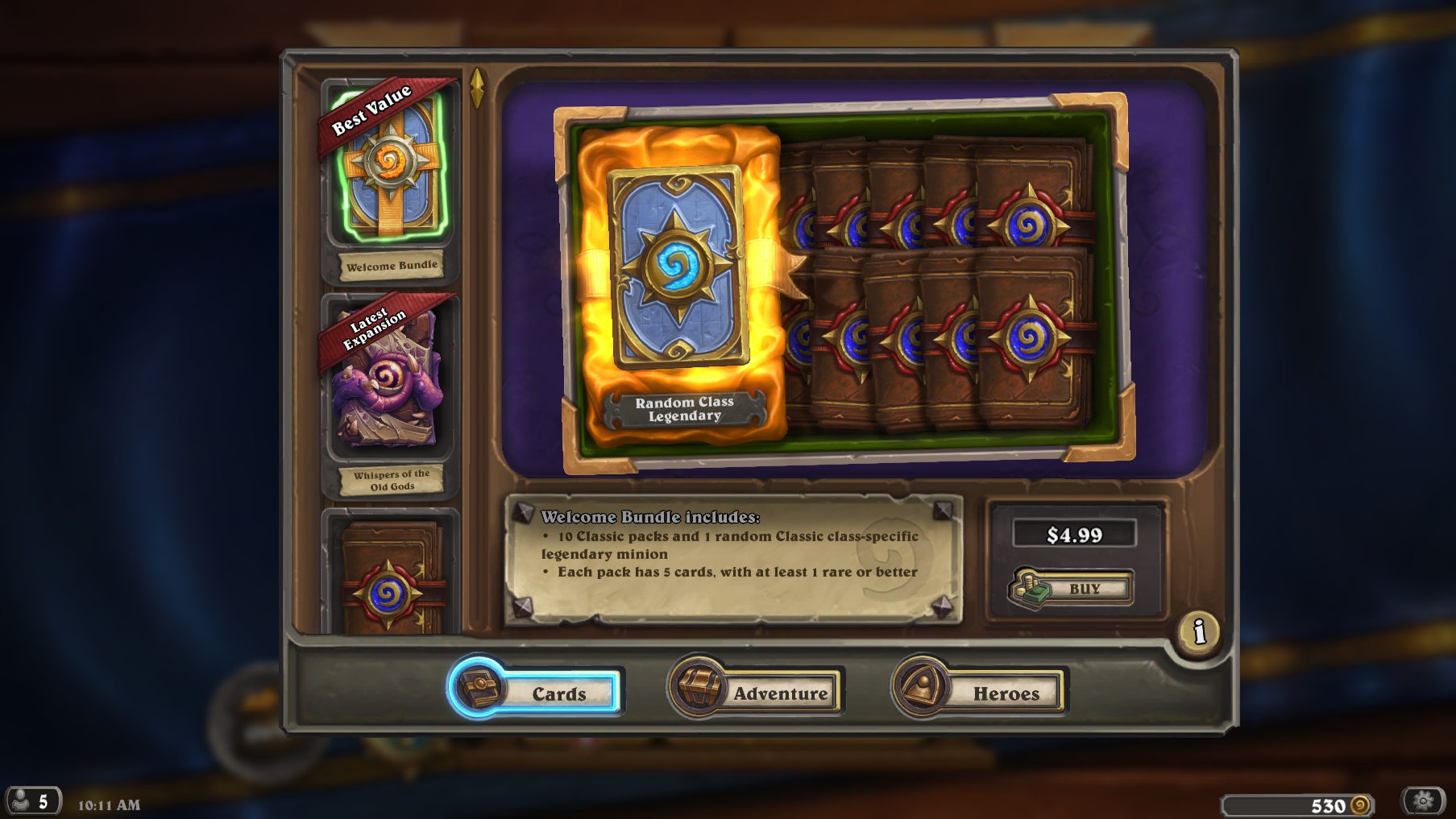 ---
In this Hearthstone update, we have added the Welcome Bundle and addressed some bugs!
Read on for details!
---
General
The Welcome Bundle has arrived! Purchase this one-time only bundle to receive 10 Classic card packs and a random Classic Class Legendary!
Added the new Priest Hero: Tyrande Whisperwind. You will be able to add the new Hero and a new card back to your collection by participating in an upcoming special promotion.
The following card backs have been added:

Tyrande – Acquired via a special promotion
Legion – Acquired by achieving Rank 20 in Ranked Play for September 2016
Pie – Acquired by achieving Rank 20 in Ranked Play for October 2016
A few deck recipes have been updated.
Certain cards will no longer be selectable in the Arena.
If you accept a Friendly Challenge while editing a deck, your deck-building progress will now be saved.
Resolved an issue that could cause gameplay to slow down after using the new Adventure restart feature.
Golden C'Thun and Mounted Raptor can now be crafted or disenchanted.
Medivh's Valet can now be properly crafted or disenchanted.
[Tablet] Resolved an issue that could prevent the on-screen keyboard from opening.
Fixed some audio, graphical, and UI issues.
---
---
Every BlizzCon®, we give out a treasure trove of in-game goodies to attendees and Virtual Ticket holders to commemorate the occasion. Take look at what you'll get for your favorite Blizzard games when you join us for BlizzCon X.
World of Warcraft® – Legionnaire Murky & Knight-Captain Murky
There comes a time when every murloc must choose a side. Will you mrglgglllgl for the Horde alongside Legionnaire Murky, or dive into battle for the Alliance at Knight-Captain Murky's command?
Overwatch® – BlizzCon 2016 Bastion Skin
A curious automaton has been spotted exploring the halls of a local gaming convention. Cosplay as a BlizzCon-bound Bastion unit in your next match of Overwatch with this commemorative skin.*
Diablo® III – Diablo 20th Anniversary Pet
Celebrate two decades of terror with this anniversary-themed Diablo pet, based on the Dark Lord's design from the original game.*
Hearthstone® – Welcome Inn Card Back
Pull up a chair by the fireside at BlizzCon's Hearthstone Tavern, then play a few hands with this year's convention-innspired card back.
Heroes of the Storm® – Nexus Tiger Mount
Introducing the latest BlizzCon mount to add to your menagerie—the Nexus Tiger! Dash onto the Battlegrounds riding this ferocious beast and show the opposing team they're in for a fight.
StarCraft® II – Mystery Goodies
Show your opponents you were at BlizzCon with a new portrait—and as a bonus, be among the first to unlock a fun new piece of upcoming StarCraft II content.† Stay tuned for more details!
This cache of in-game goodies will be available to you when you join us for BlizzCon X via the Virtual Ticket or in person (just redeem the Digital Bonuses code you received when you purchased your tickets).
They'll be unlocked in-game closer to the show—stay tuned for more information, and we'll see you at BlizzCon!
*Diablo III in-game content for PC/Mac version only. To redeem Overwatch in-game content for PlayStation 4 or Xbox One, players must link their Battle.net account to a PlayStation Network® account or Xbox Live® account respectively. For more information on account linking, visit https://us.battle.net/support/en/article/linking-your-battlenet-account-on-consoles.
†Bonus StarCraft II goodie will also be available separately—more details to come.