We say this basically every week, but the Hearthstone community seriously rocks at making cool and innovative cards. This time around we see someone's attempt at buffing basic cards with no flavor text, an evolving minion that grows stronger over time, and an
awesome
golden card.
---
People have long been creating custom cards for various card games. Hearthstone is no exception and you'll find examples of it throughout the Internet. Hubs like the
CustomHearthstone subreddit
which acts as a home for creators to come together and show off their ideas.
This is a place to share and discuss your cards and ideas for Hearthstone. We're home to a growing community and weekly card design competitions. If you love Hearthstone and game design, you've come to the right place!
Each week the Top 5 are gathered up and sent on over to the main Hearthstone subreddit for a much larger audience to see. And thanks to the awesome
Hearthcards
website, it's easy for anyone to create a high quality render of their card. So check out some of the ones below and give the system a shot. You can share your creations below in our comments or over on the subreddit.
---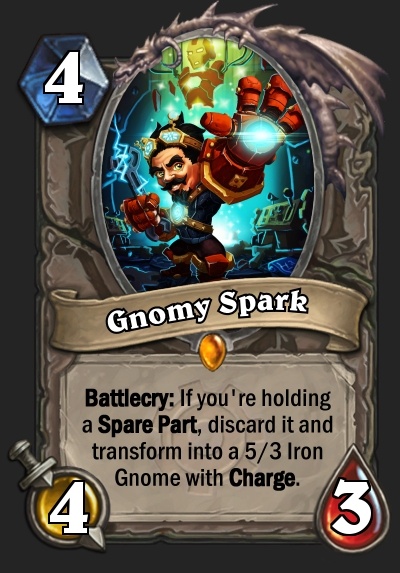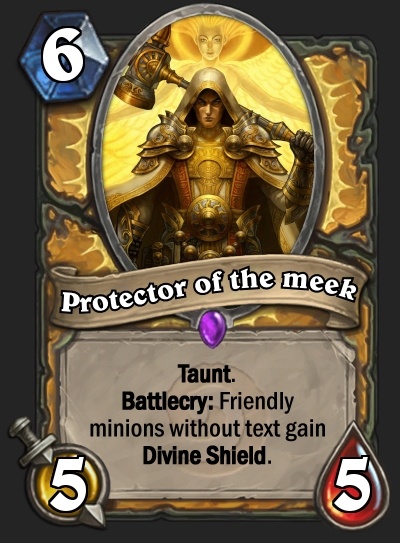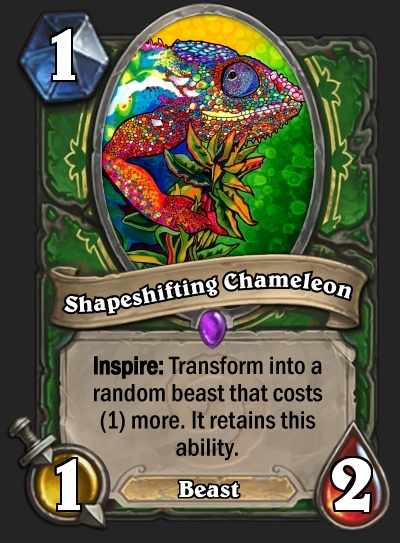 Looking for sources? You can find them here.
---
Gnomy Spark - Iron Man!

Gnomy Spark! He's a more reliable

Armored Warhorse

that relies on Spare Parts to activate!

Protector of the Meek -

Could result in Zoo style Paladin deck which is interesting. The dawn of Standard will certainly make this worse as certain key cards like

Muster for Battle

and

Shielded Minibot

are cycled out. That said, it's nice to see a card that's specifically designed around making sub-optimal cards better.

Shapeshifting Chameleon -

A minion that keeps growing if you don't deal with it. We assume it would cap out at 10 mana and while it's worth noting that yes, it can get out of control, we'd imagine it difficult to keep on the board long enough for that to happen in all but the most extreme circumstances.

Shouting Match -

Bolster

Warrior go!

Spike-Toed Booterang -

Lots of potential synergy such as drawing two cards off of

Acolyte of Pain

.
---