Happy Winter Veil! This week's Tavern Brawl is the
recently announced
Gift Exchange Tavern Brawl.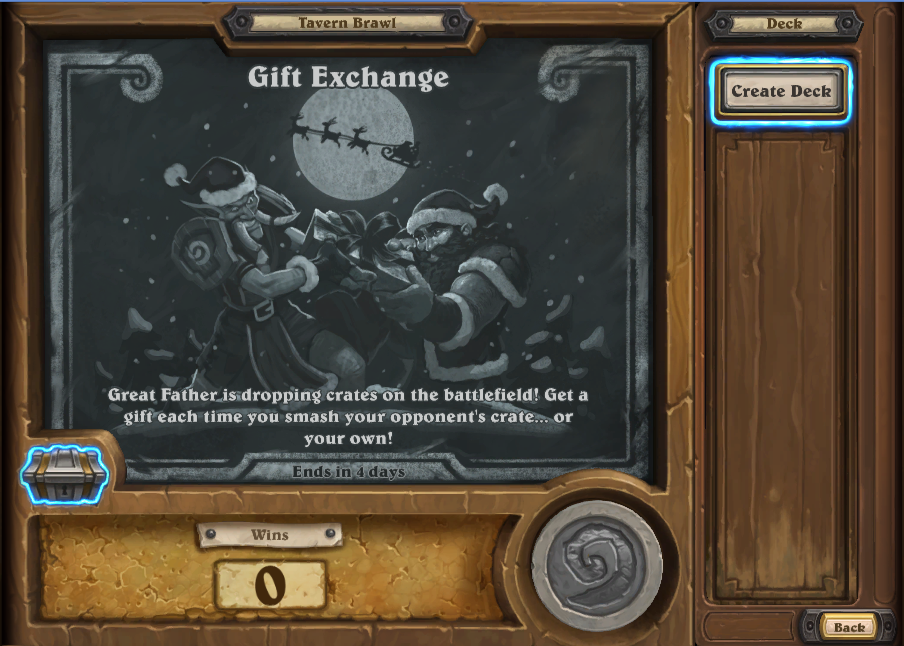 The Rules for this Brawl are as follows:
1. If any side of the board has no

Winter's Veil Gift
, one will be placed at the start of that player's next turn.
2. Whenever a crate dies, the player will receive the

Stolen Winter's Veil Gift
.
3. The card discovered by

Stolen Winter's Veil Gift
will have its mana cost discounted by 5. The card will be a class card from either your class, or your opponents class, depending on which present was killed. The card

Hardpacked Snowballs
can also show up as one of the choices for this special Brawl!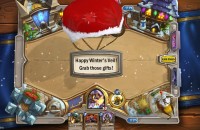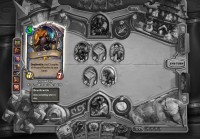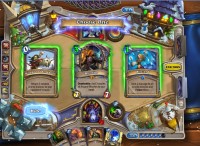 When you win this Tavern Brawl, you'll be receiving the Winter Veil card back!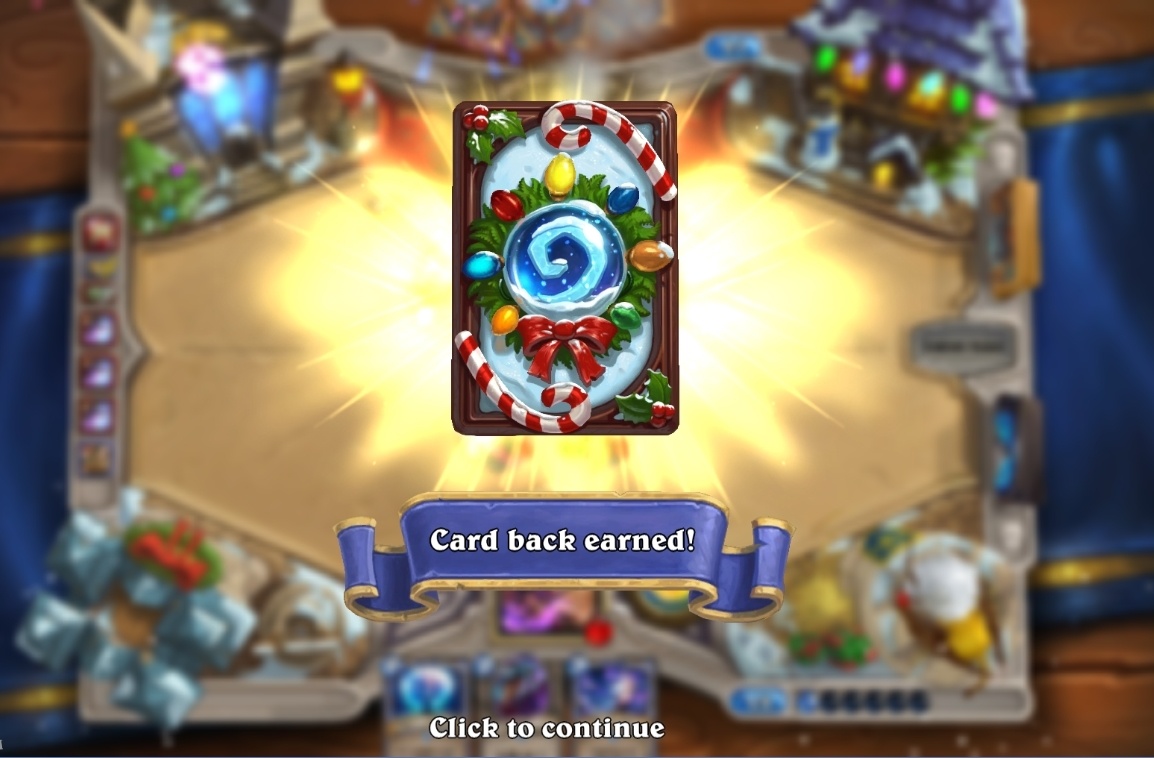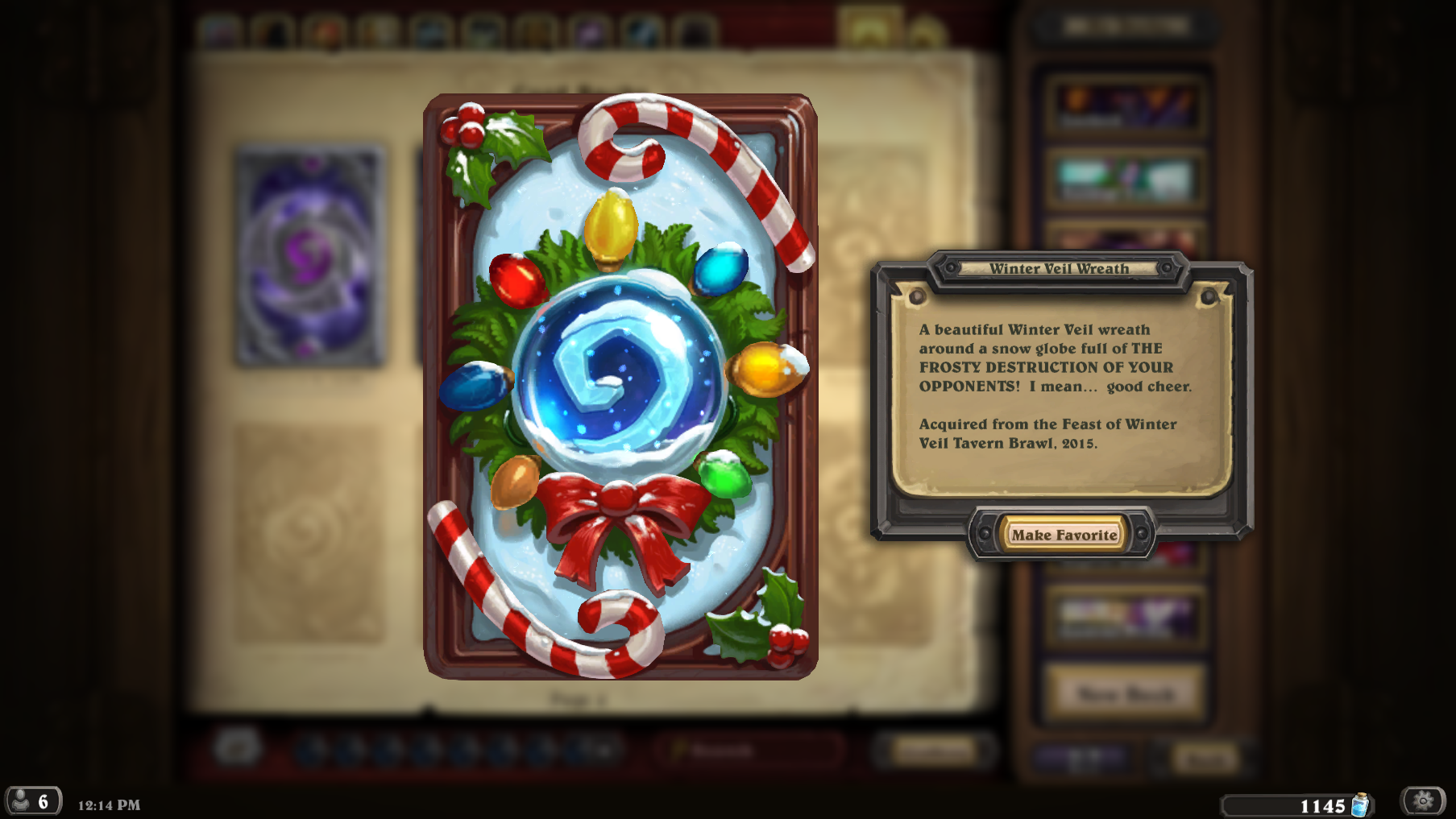 Back to TopFrequently Asked Questions
Why isn't the Brawl live in Europe?
The Tavern Brawl release schedule has changed! Check the list below to find the release time for your region.
Americas: Wed 9:00 AM PST

China: Wed 1:00 PM PST (Thu 5:00 AM CST)

Korea/Taiwan: Wed 1:00 PM PST (Thu 6:00 AM KST)

Europe: Wed 1:00 PM PST (Wed 10:00 PM CET)
Woah. What's that card? I've never seen that before.
You may be speaking of

Stolen Winter's Veil Gift
which is rewarded whenever you destroy a crate! Cast it to discover a Treasure!

Hardpacked Snowballs
is another Tavern Brawl exclusive card that you may encounter.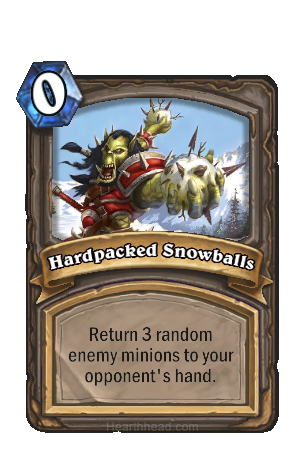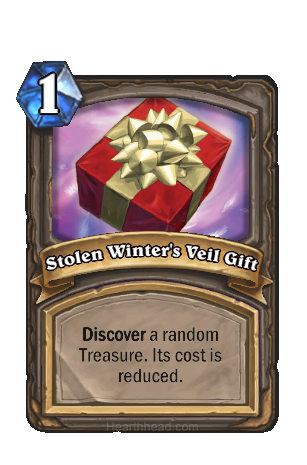 What happens if I destroy my own crate?
Your Discover selections will be primarily of your own class rather than your opponents!
Where can I find a deck for this Brawl?
This is a new Brawl, so keep an eye on the
Tavern Brawl filter
of our deck database as they start to crop up this week.
Where can I build a deck for this Brawl?
Because this Tavern Brawl does not use a premade deck, you'll have to create your own. Click on Create Deck in the Top Right corner to start creating your Tavern Brawl deck!
Once you've created your deck, you can share it for others using our
new Tavern Brawl filter
. When you're creating a deck, simply change the type of deck to Tavern Brawl so the rest of the world knows where they can use this deck.
What's the next Tavern Brawl?
Only Blizzard knows, however,
the latest patch
did contain references to Battle of the Builds, Deal Your Fate, and Blingtron's Beauteous Brawl which have yet to debut. For a look at the history of Tavern Brawls,
check out our guide
.