This week The Angry Chicken crew reviewed 19 cards in total with the Blackrock Mountain reveals from both
last week
and
this past Monday
. Also discussed were the Viagame House Cup #2, Warsong Commander's upcoming fix, and Ben Brode's thoughts on the mulligan phase in Hearthstone.
While this is not an April Fool's joke, make sure to check out these
very serious patch notes from Team 5 today
.
On The Angry Chicken episode 75, Blackrock Mountain card reveals have erupted! The final 14 cards were revealed, Monday this week, plus the TAC crew still had 5 cards that were revealed last week to discuss. 19 cards in total got the rundown on this week's show! But shiny new cards weren't the only big news this week. Blackrock Mountain releases this Thursday, Danish player (and emote master) Hoej took the Viagame House Cup #2, Warsong Commander is probably the best thing happening to Warrior in BRM, and Ben Brode would also like to hide the mulligan phase.
A reminder that next week's TAC will record on Tuesday, April 7th at 8:30 pm eastern.
You can email the show at TACpodcast@gmail.com. Follow us on
http://Twitch.tv/amovetv
 for the live shows. VODs can be found on the Amove Youtube at
http://Youtube.com/starcastshow
The Angry Chicken is podcast about all things Hearthstone. Garrett, Dills, and Jocelyn cover news, strategies, crazy game stories, and take your emails every week. Jobs done!
Back to TopThe Race for Blackrock Mountain
Twitch is offering a weekly $200 bounty for the first person to beat each of the Blackrock Mountain wings on both normal and heroic mode. The winner will be the first person to create a VOD of the entire run (class challenges not required) and tweet the VOD to
@twitch
on twitter. With 5 wings, there are 5 chances for you to win! Check out the tweet below for the rules.
Attention broadcasters: We've got a bounty for whoever can beat each wing of #BlackrockMountain first and stream it!
pic.twitter.com/u8OJqP4RRx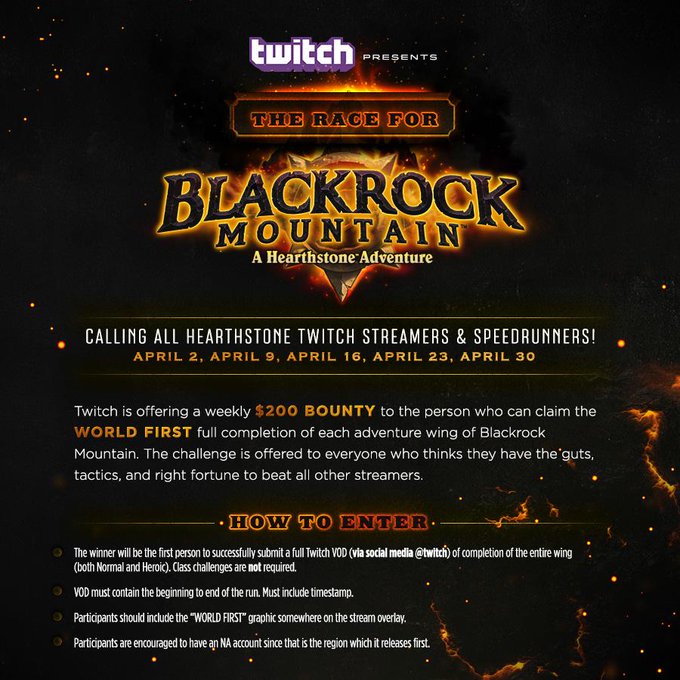 Back to TopMissing Naxxramas Wing Fix
---
Our development team is currently aware of issues affecting players recently where purchased Naxxramas content is not available in the client. Not to worry! Your purchases are safe. To see them, follow these instructions:

1. Close Hearthstone and Battle.net.
2. Visit Battle.net Account Management, and update your password.
Optional: You may immediately change your password back if you choose!
3. Log back into the Battle.net Desktop App and launch Hearthstone.
4. Your Naxxramas content should now be available.

If for some reason you are still unable to see your content, please contact Customer Support so that we can assist.