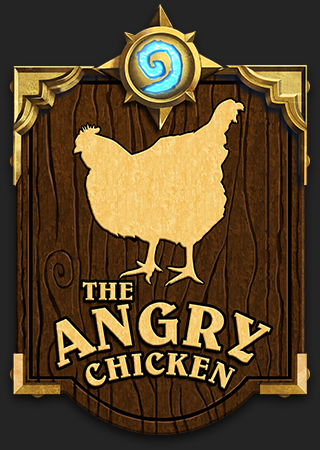 No Dills means Justin Robert Young is back and filling in while the cast discusses the latest Hearthstone news!
In a recent video, Ben Brode revealed some upcoming UI changes coming to Hearthstone.

Garrett was really excited about

an IGN interview

with Mike Donais and Peter Whalen.

In it they call today's meta the "best format" and are content with Miracle Rogue at the moment.

They also admitted they're going to revisit balancing at the start of next year.

Priest needs some attention and the team knows that.

Following this, the cast talks about the EU Spring Championship from last weekend.
---
---
On The Angry Chicken #156 Justin Robert Young is filling in for Dills! The adjusted trio dive into some new interface improvements coming to Hearthstone, the state of the game, the Europe Spring Championship, the Old Gods Travel Agency, crazy game stories, and many more listener emails.
Don't forget Garrett, Jocelyn, and Dills will all be doing a live recording of The Angry Chicken at CreateCon in Orlando, Florida on July 30th. For tickets and information check out
http://CreateConvention.net
.
You can support The Angry Chicken by becoming a Patron at http:/Patreon.com/tac. Thanks for the support!
You can email the show at TACpodcast@gmail.com. Follow us on
http://Twitch.tv/amovetv
 for the live shows.
Show Notes