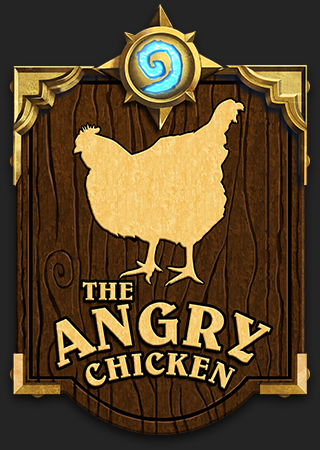 The Angry Chicken crew realizes just how crazy things have gotten (which is probably only going to get worse with the planned
Old Gods live stream on Thursday
). They also express their desire for Arena players to have their skills displayed more prominently and touch on all of the latest card reveals!
Crazy Game Stories has been cut this week as the cast can't quite keep up with the number of card reveals and their scheduled amount of time on air.

Whispers of the Old Gods card discussion!

Possessed Villager

,

Thistle Tea

,

Spreading Madness

,

Embrace the Shadow

,

Twilight Summoner

,

Wisps of the Old Gods

,

Call of the Wild

,

Blood Warriors

,

Soggoth the Slitherer

,

Cho'Gall

,

Yogg-Saron, Hope's End

, and

Deathwing, Dragonlord

are all previewed.
---
---
The Angry Chicken #143 is here and Old Gods may be just around the corner. A message in the Battle.net store may have tipped off players as to the release date of Hearthstone's upcoming expansion. Ben Brode has been getting quite chatty on Twitter about interface and the mulligan phase. Finally, the crew look over the largest chunk of Old Gods cards so far.
Don't forget Garrett, Jocelyn, and Dills will all be doing a live recording of The Angry Chicken at CreateCon in Orlando, Florida on July 30th. For tickets and information check out
http://CreateConvention.net
.
You can support The Angry Chicken by becoming a Patron at http:/Patreon.com/tac. Thanks for the support!
You can email the show at TACpodcast@gmail.com. Follow us on
http://Twitch.tv/amovetv
 for the live shows.
Show Notes