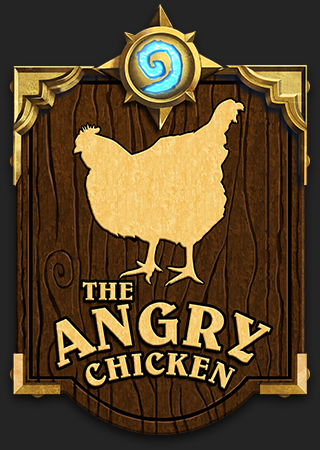 This week The Angry Chicken crew sat down with Phil Kollar of Polygon to discuss his recent article, "
Hearthstone and Community: Inside Blizzard's Radical New Approach to Working with Players
". It's lengthy and if you find yourself strapped for time, you can check out all of the
important parts and select quotes
over on our summary.
During the last week of September, Blizzard invited select media outlets (Polygon, PCGamer, and maybe a few others) out to meet with them and prominent community members.

The initial plan was to announce the format changes before BlizzCon.

Originally Wild wasn't going to support Ranked play, but various pros spoke up about keeping it relevant.

In a recent interview Chakki said something along the lines of, "If you're not bringing

Dr. Boom

in all four of your decks, you're doing it wrong." One of the reasons there needed to be change.

There's still a lot of discussions from the community about having the Basic and Classic sets being rotated as well.

Reprints, replacing old cards, and the such are also debated. "I think it's very likely that will happen one day," says Kollar.
The group also discusses the Hearthstone Championship Tour Americas Winter Preliminaries. We've gathered a lot of
the top decks here
for your viewing.
In addition they touch on The Curse Trials tournament which used the "Standard" format, banning Goblins vs. Gnomes and Curse of Naxxramas.
Outside of that they touch on fan emails including crazy game stories. To check it all out for yourself, the video podcast is embedded below.
On The Angry Chicken #136 Polygon Senior Editor Phil Kollar returns to guest host! Phil recently wrote a feature for Polygon about the community meeting Team 5 had with multiple pro-players to discuss their early plans for formats long before the official announcement. Along with this came news of the new target release schedule of two expansions and one adventure per year. Also on this episode the HCT Americas Winter Preliminaries have concluded, the Curse Trials brought fresh decks to the tournament spotlight, plus listener game stories and emails
You can email the show at TACpodcast@gmail.com. Follow us on
http://Twitch.tv/amovetv
 for the live shows.
The Angry Chicken is podcast about all things Hearthstone. Garrett, Dills, and Jocelyn cover news, strategies, crazy game stories, and take your emails every week. Jobs done!