TeSPA is hosting a teamed Hearthstone tournament for College students, similar to the Heroes of the Dorm competition. 3 players, enrolled in the same college will compete in this tournament with a live finals event later this year! The deadline for sign ups is September 25, so find some friends and sign up to have a shot at winning tuition money!
---
Coming this fall to schools across North America, the TeSPA Collegiate Hearthstone Championship promises fiercely  fun Hearthstone competition. The battle to the top will be formidable, but the rewards are truly legendary, with over $100,000 in scholarship money up for grabs!
You won't face these trials alone. The TeSPA Collegiate Hearthstone Championship is a team event where three-player teams from across the United States and Canada will form to hone their skills, handcraft top-tier decks, and work together to achieve victory. Just ask Gahz'rilla: three heads are better than one, and each team can combine the might of three minds to pilot each of their decks to victory. The top team from each of four regions will move on to compete for ultimate victory at a live finals event later this year.
---
Are you ready to battle for fame, glory, and a whole lotta scholarship money? Just find two trusty Hearthstone teammates on your campus and sign up today at compete.tespa.org.
There are a few more things to keep in mind:
Teams must consist of three players currently enrolled in the same college
Each team member must be a part-time or full-time student of a four-year college
This is a new competitive format in which teams of three work together to play a single deck
Teams play one deck at a time, but accounts can be switched between games
League play consists of one best-of-five match a week for 7 weeks, followed by the playoffs
Got it? Great! It's time to gather your team and sign up. Act fast, because registration ends September 25!
We'll have more TeSPA Collegiate Hearthstone Championship news for you as the competition heats up, so stay tuned for information about weekly live broadcasts on Twitch, as well as details regarding the live finals event.
Back to TopAugust 2015 Season Ending
Today is the last day of the August 2015 season. Reaching a minimum rank of 20 in Ranked Play Mode will net you the
Tournament Grounds
.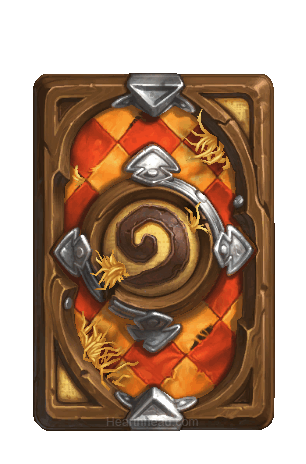 Don't forget that your
Ranked Play Mode Chest
is based off your highest rank achieved this month. The higher your rank, the better your rewards!