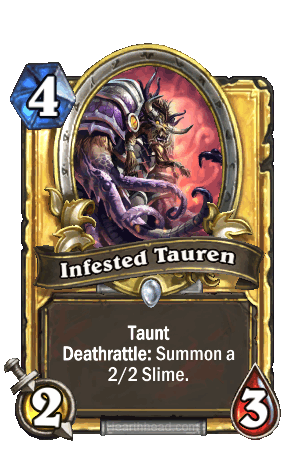 With the plethora of Deathrattles in Goblins vs Gnomes having been eliminated from the card pool, there are less good cards with the keyword than ever before. And that's a shame really considering they were gone before

N'Zoth, the Corruptor
was even a thing. There are a few obligatory inclusions when dealing with this Old God including

Sylvanas Windrunner
and

Cairne Bloodhoof
, but when looking for other Deathrattles, you'll actually notice the selection is a bit sparse.
One of the main problems with N'Zoth is that you want the minions it resurrects to be valuable. And you most certainly do not want it overfilling your board such that you miss out on a very important card like Sylvanas. So knowing exactly what to put in can be a challenge.

Loot Hoarder
and

Harvest Golem
, while solid in their own right, really aren't all that great on Turn 10 or later. And excluding class cards, they're among the few you're really ever going to consider. But

Infested Tauren
is often overlooked, so let's take some time to break it down.
This card is pretty straightforward. You're paying four mana for a 2/3 minion with Taunt that summons a 2/2 minion when it dies. In total that's 4/6 worth of stats for four mana which is pretty good. In addition it's a Deathrattle effect which opens it up to certain synergies and means that you can't just remove it all with a single spell or minion most of the time.
Back to TopWhy Is It Relevant Now?
Well Infested Tauren only came out recently in the Whispers of the Old Gods set, and though it was easily overlooked when the set first came out, it's been gaining some popularity as a tech card. This is largely because of the Deathrattle synergy and its Taunt. The former effect allows it to be resurrected by N'Zoth and the latter can be important when dealing with some of the more aggressive decks in today's meta.
Back to TopWhen Should I Be Using It?
The good thing about Infested Tauren is that it's double edged against your enemy. Early in the match it helps slow things down a little bit. Despite being somewhat of a slow play overall, it still stops damage from going to your face which is crucial when playing control. Later in the game it can do exactly the same when being summoned by N'Zoth. In a way it's sort of like

Twilight Geomancer
but for N'Zoth, though it does summon a separate minion rather than sticking it on the Old God itself.
It does well in combination with the following cards:
N'Zoth, the Corruptor

- The most common card you'll see when also playing Infested Tauren. Resummoning a Taunt in the process can actually be game saving.

Forlorn Stalker

- Though less popular, you'll sometimes see Hunters playing Stalker to give it an extra buff before it hits the board.

Unearthed Raptor

- Raptor won't copy the Taunt. But it will give you the added Deathrattle. Might not be the strongest of moves, but it's available.
Back to TopWhen Should I Not Be Using It?
In a heavy Control meta, you might just want to swap this out for something that gives you more value for the slot it takes up.

Corrupted Healbot
can be a good replacement as it's not only stronger but much harder to remove. Or you can run both like we do.
Here are a few sample decklists to get you started! Hope you better understand why you see Infested Tauren on the ladder!