This Tavern Brawl is Giving More Than a Classic Pack
This week's Tavern Brawl is Encounter at the Crossroads, but with a twist. In addition, this Brawl is giving an Un'Goro pack that can be opened in mid-April!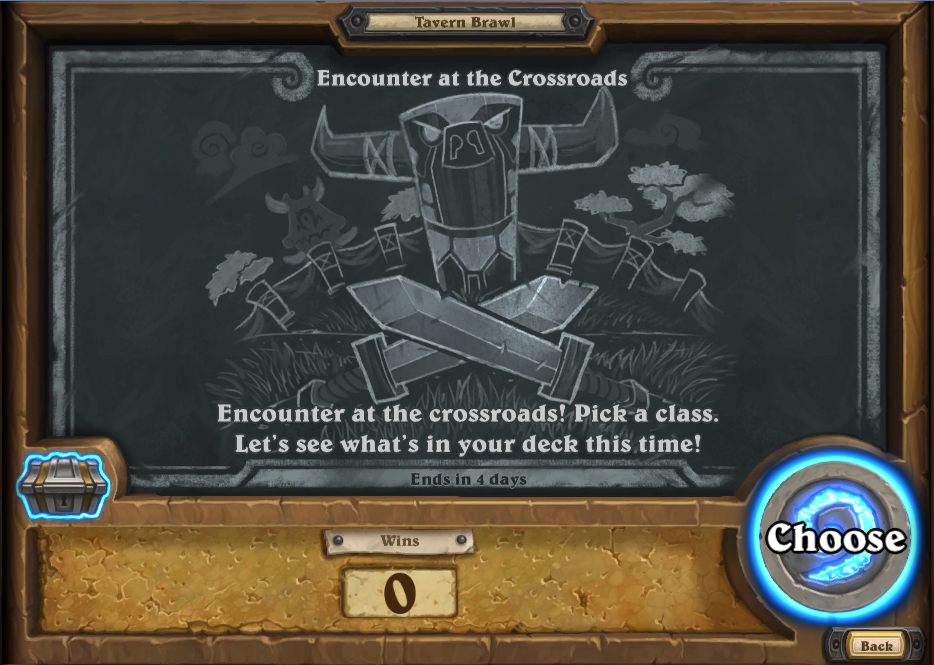 Here's the twist. At the beginning of Player 2's third turn, and at the start of every player's turn thereafter, the active player will receive a Party Crasher for free!
The Party Crasher cannot attack on your turn.

After your turn is over, every Party Crasher you own will attack your opponent directly.

This means that it's super important to develop a board early so you can be ready to take on the hoard of Party Crashers.
Update: The Tavern Brawl has been hotfixed, decreasing the rate at which Party Crashers spawn. While players aren't entirely sure what the new rules are, in our games we've found that each player has about an even number of Crashers now.
There are a few other cards tagged with the same "MammothParty" phrase in their file names that will likely be appearing in the coming weeks. They are: 
For a look at previous Tavern Brawls, check out our guide!
Back to TopFrequently Asked Questions
What's the next Tavern Brawl?
Only Blizzard knows, but we found updates to Tavern Brawl cards in the 7.1 patch that may hint at future releases.
Why isn't the Brawl live for me?
 Check the list below to find the release time for your region.
Americas: Wed 9:00 AM PST
China: Wed 1:00 PM PST (Thu 5:00 AM CST)
Korea/Taiwan: Wed 1:00 PM PST (Thu 6:00 AM KST)
Europe: Wed 1:00 PM PST (Wed 10:00 PM CET)