Play chess against your friends!
Did you enjoy the Chess event in the Karazhan adventure? This Tavern Brawl allows you to play Hearthstone's version of chess against another player.
Each King has 10 health and has the Hero Power
Castle
, which can be used multiple times in a turn.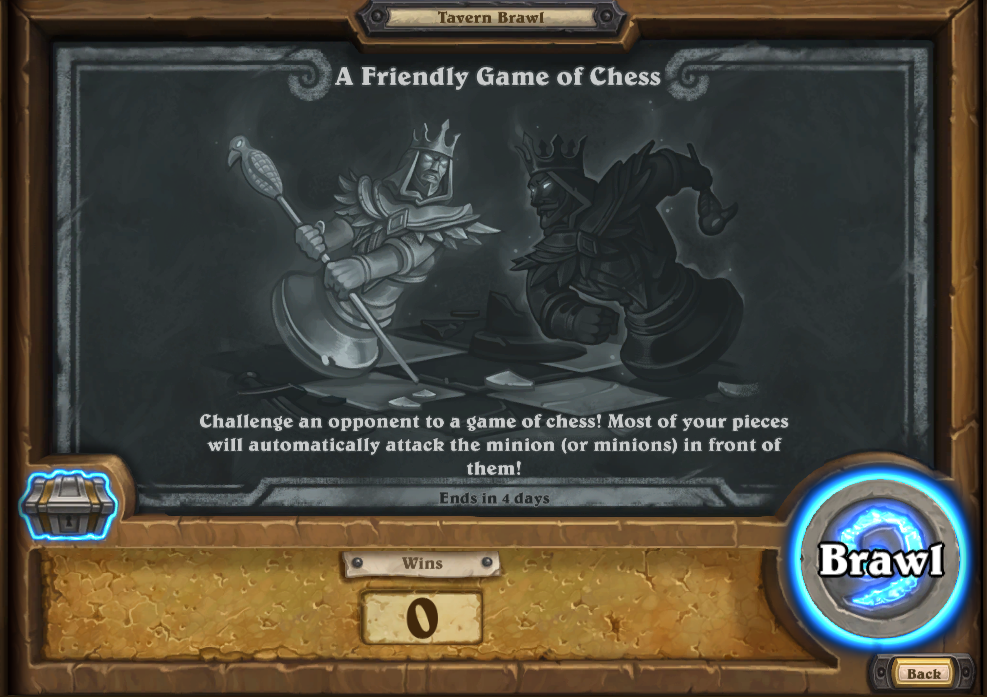 The deck lists are listed below. The two decks are identical except for the color of the pieces.
Remember that all pieces except the
White Knight
and
Black Knight
will automatically attack whatever is directly across from it at the end of your turn. Positioning is key!  
---
For a look at previous Tavern Brawls, check out our guide!
---
Back to TopFrequently Asked Questions
Why isn't the Brawl live in Europe?
The Tavern Brawl release schedule has changed! Check the list below to find the release time for your region.
Americas: Wed 9:00 AM PST

China: Wed 1:00 PM PST (Thu 5:00 AM CST)

Korea/Taiwan: Wed 1:00 PM PST (Thu 6:00 AM KST)

Europe: Wed 1:00 PM PST (Wed 10:00 PM CET)