Another Cart Crash at the Crossroads has occurred! This has left you with a random deck filled with two sets of class cards. Choose the class you will play as, but also on your first turn, you will get to choose a second class from a set of three.
This is a repeat of Tavern Brawl #51 with the
One Night in Karazhan
cards added in.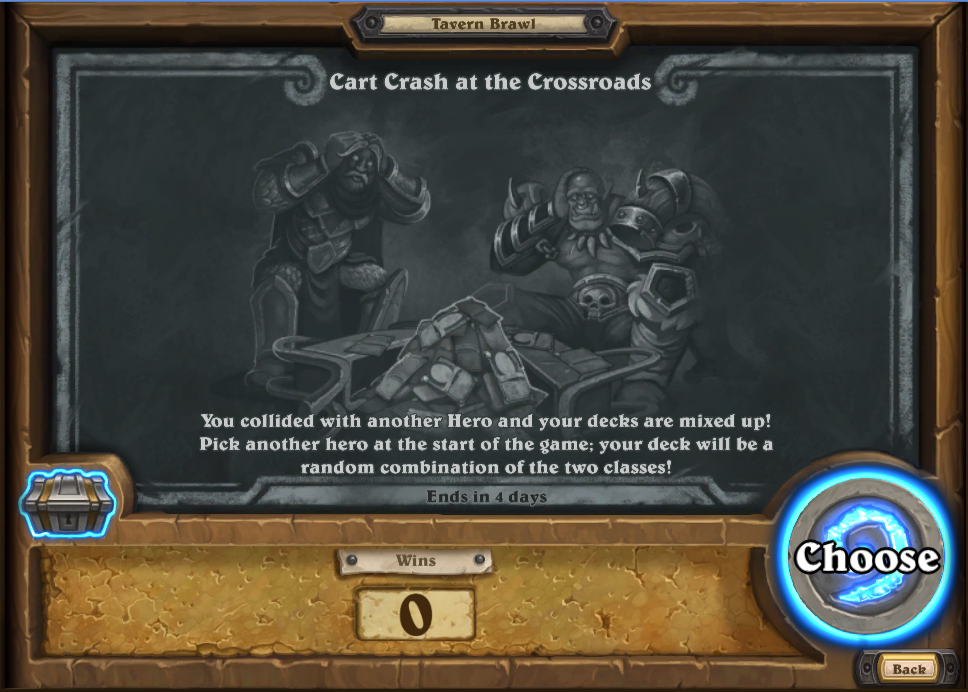 Want to try some cool themes?
Druid + Hunter - Beast Deck

Priest + Rogue - Thief Deck

Paladin + Mage - Control Deck

Mage + Hunter - Secrets Deck
Featured Cards:
---
For a look at previous Tavern Brawls, check out our guide!
---
Back to TopFrequently Asked Questions
Can I build my deck?
No, cards are randomly selected from both classes.
Do wins count towards both classes?
No, only the first class you select before entering the brawl. After you get into the brawl you'll mulligan and Discover a second class that will add random cards to your deck.
Why isn't the Brawl live in Europe?
The Tavern Brawl release schedule has changed! Check the list below to find the release time for your region.
Americas: Wed 9:00 AM PST

China: Wed 1:00 PM PST (Thu 5:00 AM CST)

Korea/Taiwan: Wed 1:00 PM PST (Thu 6:00 AM KST)

Europe: Wed 1:00 PM PST (Wed 10:00 PM CET)