This week's Tavern Brawl is Storming Stormwind! This week you'll be going up against the AI playing the

City of Stormwind
.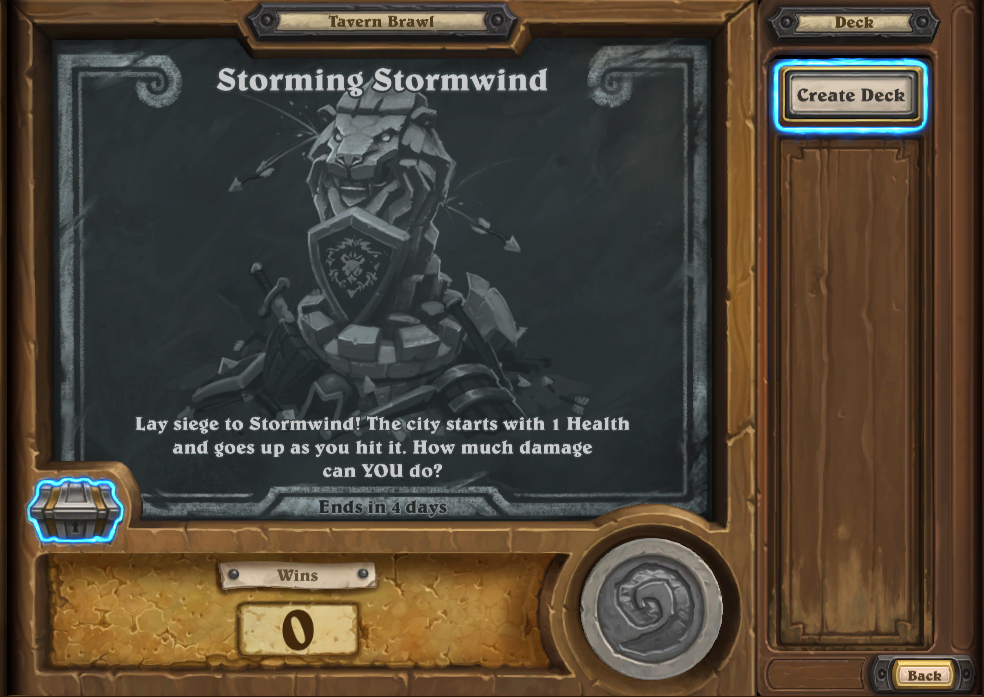 City of Stormwind
starts off with 1 health, and with

Armory
equipped. It's Hero Power is

Barracks
which will summon a

Swordsman
or

Shieldsman
.
Dealing damage to the City of Stormwind will increase its health, with the goal to get it as high as possible.

The

Swordsman

summoned by it's Hero Power will grow gradually larger over time.

Armory

will gain more attack for every turn.

If you destroy Stormwind's weapon, its Attack will reset to zero.
The City of Stormwind has some new unobtainable cards:
If you have to have the Tavern Brawl quest this week, you'll receive a win as long as you don't concede.
---
Check out our Tavern Brawl Hub!
---
Back to TopFrequently Asked Questions
Why isn't the Brawl live in Europe?
The Tavern Brawl release schedule has changed! Check the list below to find the release time for your region.
Americas: Wed 9:00 AM PST

China: Wed 1:00 PM PST (Thu 5:00 AM CST)

Korea/Taiwan: Wed 1:00 PM PST (Thu 6:00 AM KST)

Europe: Wed 1:00 PM PST (Wed 10:00 PM CET)
What's the next Tavern Brawl?
Only Blizzard knows, but we found some cards for future Tavern Brawls in
the latest patch.