In this week's Tavern Brawl, you'll be creating your own deck. In this Tavern Brawl, at the start of each turn you will always draw a card that has a mana cost equal to the turn number, if one is available. On Turn 1, you will draw a 1 mana-cost card and on Turn 2, you will draw a 2 mana-cost card and so on. Therefore, if you only have one card at a particular mana cost, you'll be guaranteed to draw that card.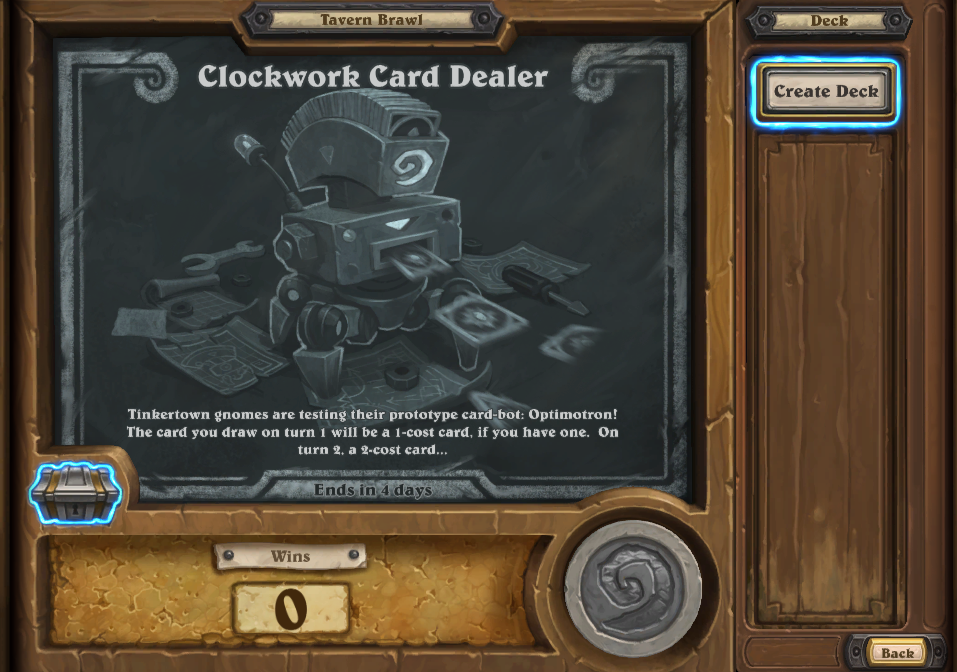 If you want a specific card to be drawn on curve, make sure that it's the only card of that specific mana cost in your deck. For example, if you want to draw

Mysterious Challenger
on Turn 6, make sure that it's the only 6 mana cost card in your deck.
---
This brawl last appeared on October 7, 2015, prior to League of Explorers and Old Gods!
---
Back to TopFrequently Asked Questions
Why isn't the Brawl live in Europe?
The Tavern Brawl release schedule has changed! Check the list below to find the release time for your region.
Americas: Wed 9:00 AM PST

China: Wed 1:00 PM PST (Thu 5:00 AM CST)

Korea/Taiwan: Wed 1:00 PM PST (Thu 6:00 AM KST)

Europe: Wed 1:00 PM PST (Wed 10:00 PM CET)
What's the next Tavern Brawl?
Only Blizzard knows, but we found some cards for future Tavern Brawls in
the last patch.