This week's Tavern Brawl is Pick a Hand, Any Hand. You will create a 7 card deck with the remaining 23 cards being

Unstable Portal
s
. Your opening hand will always contain a subset of the 7 cards that you select. Afterwards, the remaining cards are shuffled with the Unstable Portals.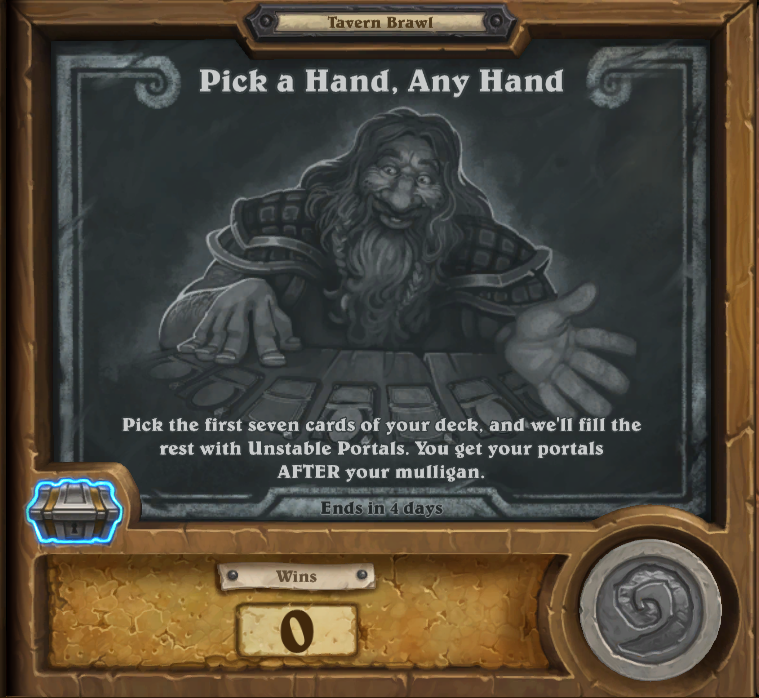 You will have a high likelihood of getting a near optimal starting hand, since you're only drawing from a pool of 7 cards before Turn 1 begins.

Sorcerer's Apprentice
will reduce the cost of all the

Unstable Portal
s
and

Mana Wyrm
will gain an Attack for every Unstable Portal played. It's a great combo!
---
For the history of Tavern Brawls, check out our guide!
---
Back to TopFrequently Asked Questions
Why isn't the Brawl live in Europe?
The Tavern Brawl release schedule has changed! Check the list below to find the release time for your region.
Americas: Wed 9:00 AM PST

China: Wed 1:00 PM PST (Thu 5:00 AM CST)

Korea/Taiwan: Wed 1:00 PM PST (Thu 6:00 AM KST)

Europe: Wed 1:00 PM PST (Wed 10:00 PM CET)
What's the next Tavern Brawl?
Only Blizzard knows, but we found some cards for future Tavern Brawls in
the last patch.