This week's Tavern Brawl is Shadow Towers. Players will start with 30 health and 10 armor and any minions played will have stealth their first turn!
Note that minions summoned by spells or by other minions will not gain the stealth effect. Only minions played directly from your hand will gain Stealth.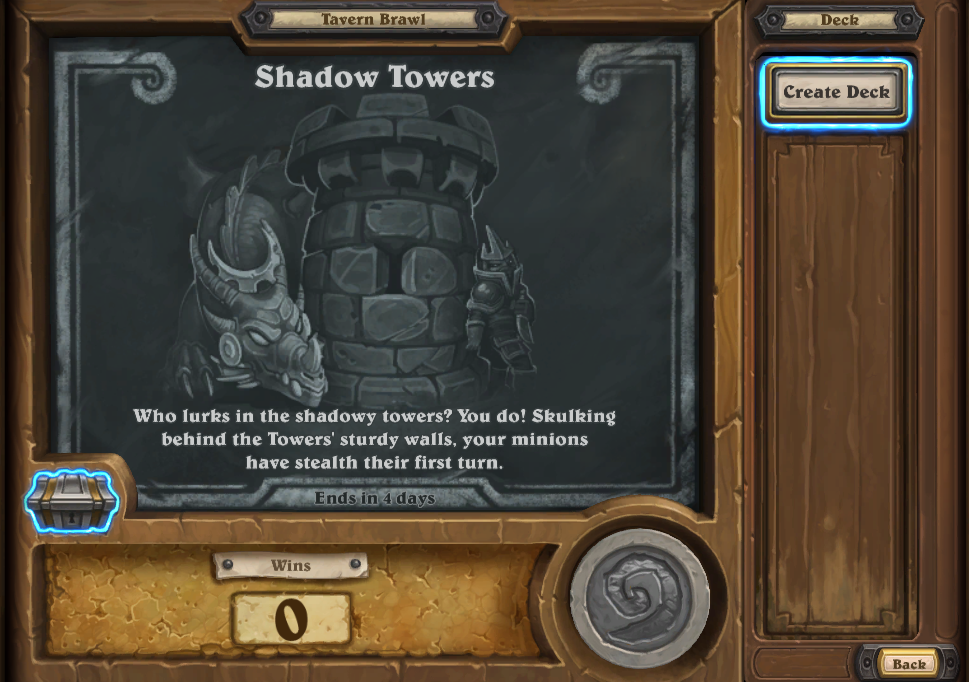 ---
For the history of Tavern Brawls, check out our guide!
It's worth noting that Ragnaros will restealth after activating and Doomsayer is guaranteed to go off unless your opponent has untargeted hard removal.
---
Back to TopFrequently Asked Questions
Why isn't the Brawl live in Europe?
The Tavern Brawl release schedule has changed! Check the list below to find the release time for your region.
Americas: Wed 9:00 AM PST

China: Wed 1:00 PM PST (Thu 5:00 AM CST)

Korea/Taiwan: Wed 1:00 PM PST (Thu 6:00 AM KST)

Europe: Wed 1:00 PM PST (Wed 10:00 PM CET)
What's the next Tavern Brawl?
Only Blizzard knows, but we found some cards for future Tavern Brawls in
the last patch.