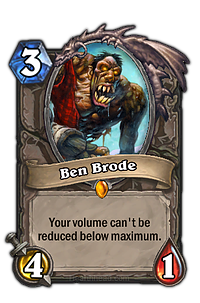 We're always working on improvements to Hearthhead, and we wanted to share some of our latest improvements with you!
We've added cards from the hidden
Credits set
to our database. You can filter for them by changing the "Set" filter to "Credits". Take a look and learn the secret super powers of Team 5!
Seeing quick information in a tooltip is always convenient, so we've added tooltips for
Achievements
,
Mechanics
, and
Quests
. This also applies to our external tooltips, which you can add to your site by following the information on
the Tooltips page
.
Back to TopDetails on Seasons and Card Backs
Our
Seasons
and
Card Backs
pages now have season date information, so you can see exactly when they were available, and if they still are. The Seasons list page also starts out sorted by that date, so the most recent and relevant seasons come first.

Originally launched on Wowhead, we've brought our
Blue Tweets Tracker
to Hearthhead. There you can follow the tweets of Team 5 members in a single location!
By default, you'll see tweets from all developers and community members. Using the menu at the right, you can customize it further:
You can choose to only see significant tweets, which are marked as important by Hearthhead staff. Important announcements from

@PlayHearthstone

or Curse of Naxxramas information like card clarifications would be considered significant.

To avoid clutter, we've hidden conversations that are one-on-one replies since they may be more personal or incidental. If you want to see all of a user's tweets though, there's an option to do so. Sometimes Blizzard devs include useful information in conversations, so it's good to enable both "Show @ replies" and "Show significant tweets."

You can show or hide someone's twitter feed by clicking on the green checkmark or red X to the left of a name.