At PAX East we sat down with Craig Kaufman, Program Director at
AbleGamers
- a nonprofit charity which aims to improve the overall quality of life for those with disabilities through video games. We discussed his panel "How We Find Positivity Through Gaming" and his Hearthstone related efforts: he frequently runs a Fireside Gathering in Columbus -
Fireside Columbus
- which he describes as a monthly meetup for charity.
"Gaming is fun and connects us with friends, but also helps us process emotions. Our connections with characters, storylines, and in-game experiences are powerful and can help us get through tough times. Come listen to several people talk about how they incorporate gaming into their lives and their jobs to help promote positive living/thinking through the power of gaming."
So for those who weren't at your panel, tell us what it was about.
So I was on a panel called Positivity in Gaming, it was really cool, we actually talked about some of the different things that the charities are doing in the gaming world as well as some of the social networking things that happen – how people go to PAX and they see their friends or they go to PAX and they make friends, stuff like that.
You host Fireside Gatherings relatively frequently, right? How have those been?
The Fireside Gatherings have been awesome, we actually have one coming up next week, I think it's the sixth one [we've done]. We just get a bunch of people together, drink a bunch of beers, play Hearthstone, and raise money for charity.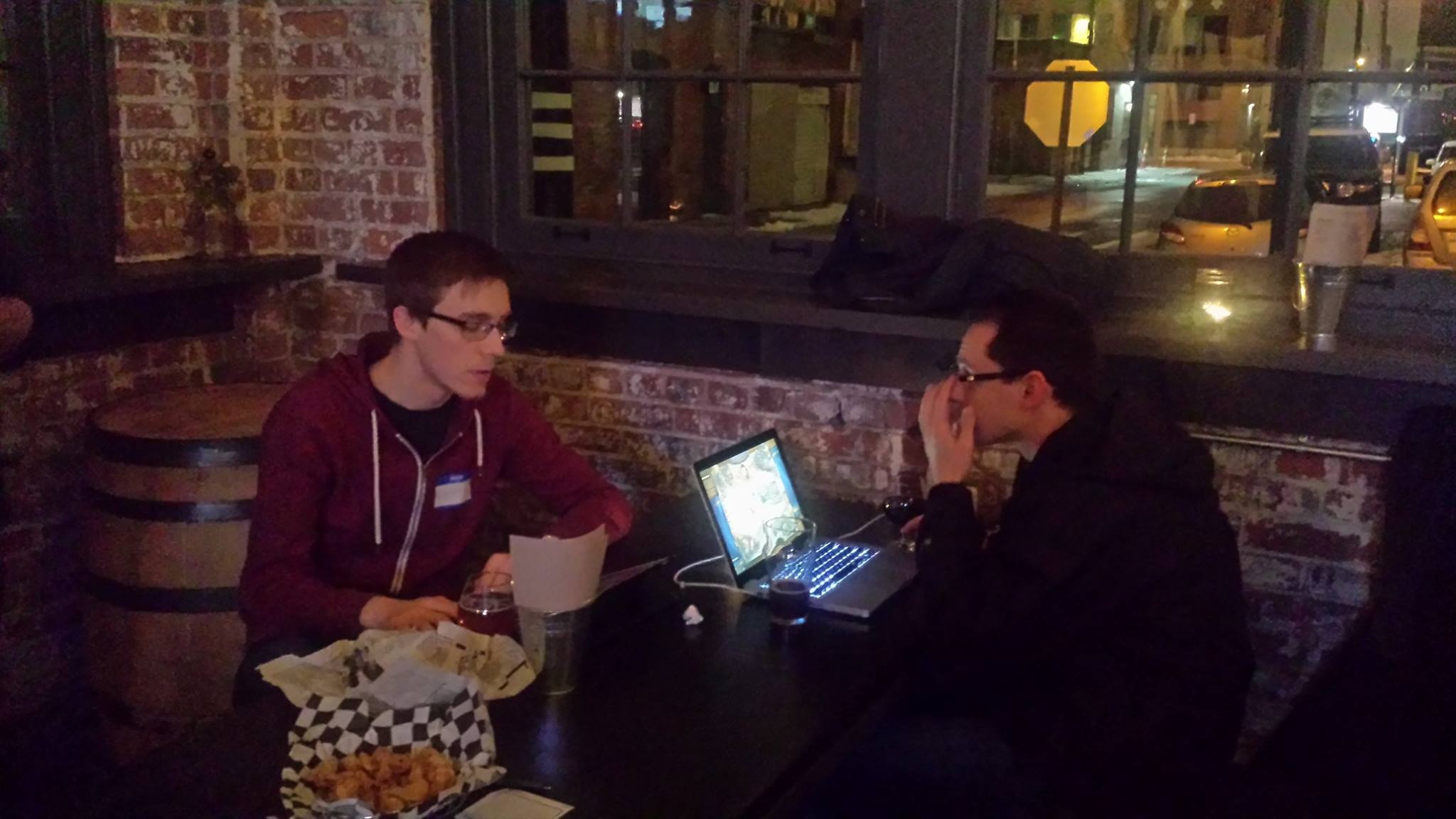 Wolf's Ridge Brewing
hosts each Fireside Gathering.
Did you just choose a random bar?
I actually went through a process of finding bars. I do a few things – I drink beer, play Hearthstone, and do AbleGamers stuff. And I was like, "Alright, I want to find a bar that has good wifi [and] that will allow me to do some fundraising." So I found a bar that said, "Yeah, you can do this. We'll give you a dollar per beer and we've got good wifi." And I was like, "Great, that checks [off everything I need]."
The last thing I had to do was make sure it had a fire inside of the building. So they have this old stove, it actually kind of looks like a Warcraft inn, and I was like, "That's perfect. That's fire, it counts."
About how many people show up?
Back to TopI do a few things – I drink beer,
play Hearthstone, and do AbleGamers stuff.
It varies. The first one had 50, the second one had like 20-25. Depends on the weather, what time of the month, and when the update comes out.
Are you looking forward to the new set?
Yeah! We're doing another [Fireside Gathering] on the 26. I schedule them a month in advance and I was like, "Oh this will be great. I'll do it right between PAX and this other thing I'm going to." Not realizing that the update would hit on that day. I have a feeling that the servers will work perfectly, there will be no issues at this Fireside Gathering.
Remember when Hearthstone first came out and people were protesting the lack of text chat in Hearthstone? Do you think that decision has inherently helped promote positivity?
I actually love the fact that you can't actively talk shit, that you can't trash talk players throughout the game. Being able to get the six [emotes is enough], but you can add somebody and you know it's a 50-50 shot [that they're going to be negative]. But it's actually really neat, especially from a communication stance of if someone speaks a different language, there's no language barrier, or if somebody has a problem typing or spelling, it's the same commands. So it doesn't feel as bad when you get destroyed and you can't see what they actually think when you play

Dr. Boom
.
Prior to this you mentioned playing Hearthstone using eye tracking hardware. Was that part of AbleGamers or just something you wanted to try out?
So I was actually testing equipment. We were given a few of the
Steelseries Eye Tracking units
[since] we grant out equipment for some people with disabilities. So I was just testing it on one of the weekends and I was like, "Alright, I'll play around with it," because it's a mouse based game, so I played it with that, tested it out.
Have you found that the AbleGamers community is fond of Hearthstone?
AbleGamers has a wide community, there's a lot of people that play games. So it's not just people with disabilities, a lot of people like Hearthstone. It's actually been the talk of a lot of the members of the charity. While we're working we'll talk about Hearthstone and all that stuff. We can be working [and it can make everyone stop and talk], "Oh the patch notes are out? Hold on a sec let's read." "Oh

Dr. Boom
is nerfed? Alright let's keep going!"

The Franklin County Board of Developmental Disabilities,
asked AbleGamers to help Chris
, a resident of a local special needs facility. Through frequent use, his NES system has worn down to the point where it struggles to play many of his favorite games, one of the few ways he destresses. With funds coming from Kaufman's efforts, AbleGamers has managed to hook up the facility with an all new set up including a TV, all the original Mario titles, Mario Kart 8 and Mario Maker. It's just the start for Kaufman's new efforts and he hopes to continuing bringing more joy to those in the Columbus area.
Perhaps Kaufman will need to replace one of his most good mannered efforts. Historically there's only been one rule when participating in their the Fireside Gatherings - if you play Secret Paladin you have to offer your opponent a beer. He recalls a moment in a Paladin mirror match where both players don't want to reveal what archetype they're running. But eventually Kaufman has to play a Secret, "You're going to owe me a beer, aren't you?" asks his opponent. Kaufman just laughs, buys a beer, and does so hoping (for once) that more people are also running

Mysterious Challenger
.