On this week's Hearthstone Deck Tech, Spacewizard showcases his Snake Trap Hunter deck that's been designed for casual play. With this deck, you can force your opponent into attacking your minions and swarm the field with beast tokens. If you're missing a legendary or two, check out the budget decklist.
Back to TopBlizzard's Hearthstone Quiz
Blizzard has posted
a Facebook quiz
where you answer 10 questions to see what card you are. It includes an unusual number of references to eating murlocs... Hmm.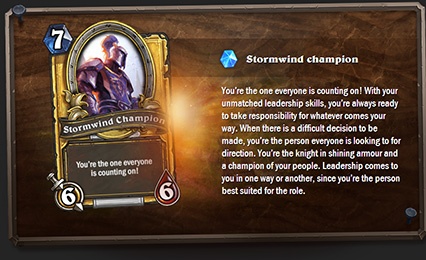 Below you'll find some recent tweets from members of the Hearthstone team at Blizzard. Be sure to check out the
Hearthhead Blue Tweet Tracker
to see the most important tweets made about the game from Blizzard staff!
Over at the Yogscast Simon has completed his ascent to face the "tryhard" Lewis in the culmination of his journey to prove the might of the dwarves! Be warned that this video includes some strong language.