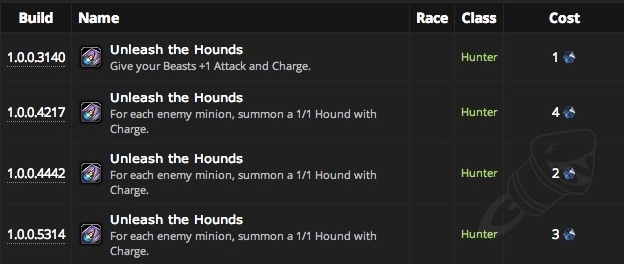 We've added a changelog tab to our card pages so you can see exactly when each card was changed and its previous versions. For example,

Unleash the Hounds
has changed several times and you can see exactly what changed in each build.
There was a small new Hearthstone build today. No major card changes, but

Baron Rivendare
received an update to its flavor text:
Old: Lady Blaumeux is a little hurt that they don't call themselves "The Four Horsepeople."

New: There used to be five Horsemen but one of them left because a job opened up in the deadmines and the benefits were better.
Back to TopPlague Quarter Opening Tonight
The Plague Quarter opens tonight in the US and just went live in Europe! Ashelia will be staying up late to post strategies for the new wing.
We've just updated Hearthhead for the Plague Quarter as well--the Plague Quarter bosses have been added to filters as menus. Our Decks now let you select the Plague Quarter bosses as ones your deck is built to defeat and our
main Decks page
has a special section for these decks.
As usual, check out our
Curse of Naxxramas overview
for the complete details on this Adventure Mode!
---
You've braved the creepy crawly horrors of the Arachnid Quarter - now prepare yourself for new cards, new bosses and more fun with Curse of Naxxramas: The Plague Quarter!

The Plague Quarter will open at the following times per region:

Americas: Tuesday, July 29th at 11:59 PM PDT
Europe: Tuesday, July 29th at 11:59 PM CEST
Korea/Taiwan: Wednesday , July 30th at 12:59 AM KST / Tuesday, July 29th 11:59 PM CST
China: Tuesday, July 29th at 11:59 PM CST

(Americas Region) The cards that players can acquire in The Plague Quarter will be featured on the official Hearthstone blog here once The Plague Quarter is live in the Americas region.

Good luck and have fun acquiring new cards for your Hearthstone collection!