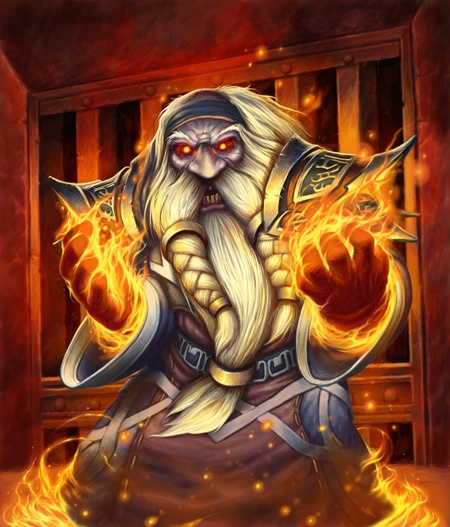 Challengestone returned this past weekend with many wondering how the tournament would fare following the release of Blizzard's Tavern Brawls. In short, it didn't affect anything at all other than this format growing in popularity.
True Highlander was this week's rule, with players challenged to build three decks of the same class without using a card more than once throughout all three decks. Yeah, it wasn't easy. As a result players were given 35 minutes, up from the 20 allocated last time. Even so, there were still many mistakes, including that of the tournament organizers who were hand checking for mistakes and missed a few duplicate cards until after competition was completed.
In this challenge, you can only use one copy of each card to build 3 decks of the same class. If you use this copy in a deck, you cannot use it in another deck. The format is conquest, so you have to beat the opponent once with each one of the three decks you make.

The format of this event is Conquest: in order to win, you have to beat your opponent once with EACH ONE of your decks. Therefore, after each game, the winner MUST pick another one of their decks, the loser can keep the same deck or pick another one of their decks.
Penalties were light this time around with

Salty Dog
,

Stormpike Commando
,

Priestess of Elune
,

Core Hound
, and

War Golem
as the first five replacements. No one exceeded these but the entire list can be found on the
Tempo Storm
website.
When a card is duplicate or multiple across different decks and/or within the same deck, all of its copies will be replaced with copies of a card from the list below. Cards on the list will be used as replacements in the order they are listed. Cards on the list that already exist in one of the decks will be skipped. The order of the duplicate cards replacements will be random.
The same card list will be used to complete incomplete decks. If a player has 3 decks of different classes, they are disqualified. If a player has 2 decks of one class, the third deck is the deck created from all penalty cards.
SilentStorm swept defending champion Kibler out in the first round while second place Trump dropped 3-2 to Kaldi. With both eliminated from the first round, the rest of the action was sure to be exciting with a new champion guaranteed.
"Unfortunately, my play was worse than my deck construction, thanks in no small part to my sleep deprivation from my early morning flight. I actually made a game-losing mistake as early as turn two of the very first game," Kibler comments on his
blog
, "I kept thinking back and shaking my head at just how bad that play was through the rest of the games, which included several other outright blunders on my part, including playing a

Hungry Dragon
and hoping that my opponent got a

Zombie Chow
from it in order for me to stay alive when I had a

Zombie Chow
in my hand that I could have tried to give him with his

Sylvanas Windrunner
trigger."
Freshca had issues with his internet and as a result was disqualified but reassured he'd be invited to Challengestone 3 along with the top two finishers of this tournament. As a result, Noxious got a bye to face Kaldi who opened up a 2-0 lead before Nox came rushing back to take the victory. Thanks to the Conquest format, one terrible deck is all it takes to rob you of your win.
Kolento also beat SilentStorm in a five game series which saw the Cloud9 player rush down his opposition by turn six.
Yet another five game series would ensue that surprisingly saw Noxious push Kolento to the brink of defeat. However, Noxious horribly misplays to start the last match by

Light of the Naaru
-ing
his face when he was at 27 health, therefore not giving him the

Lightwarden
. And because Kolento has

Mechwarper
,

Micro Machine
, and

Whirling Zap-o-matic
it basically means game over with a turn five

Bloodlust
.
So let's take a look at Kolento's winning decks. It's worth noting that he did include two

Coldlight Seer
s
in his Murloc deck and as a result they were replaced with a

Salty Dog
and a

Stormpike Commando
.
Try out the challenge for yourself, it's a heck of a lot harder than it looks when most of the good cards are used up in your first two decks.
For VODs of the tournament, you currently have to go to
Twitch
.