We're just over 12 hours away from the announcement of the next Hearthstone adventure and all signs continue to point at Karazhan being our destination.
Conveniently, Blizzard has released the Khadgar animated short for the Harbingers series. Even though this is meant to promote Legion, it really is impeccable timing. In addition, going to
Karazhan.com
currently redirects you to Battle.net.
We'll see you tonight at 11 PM PST when we'll be liveblogging and tweeting
the special stream at ChinaJoy
where Ben Brode is set to tell us what's coming next.
Want to know what to expect? This video should help.
Back to TopGolden Celebration Card Back
A slew of pro players have been tweeting about receiving the
Golden Celebration
card back. Looks like Blizzard is now rewarding it to everyone who's made an HCT Championship.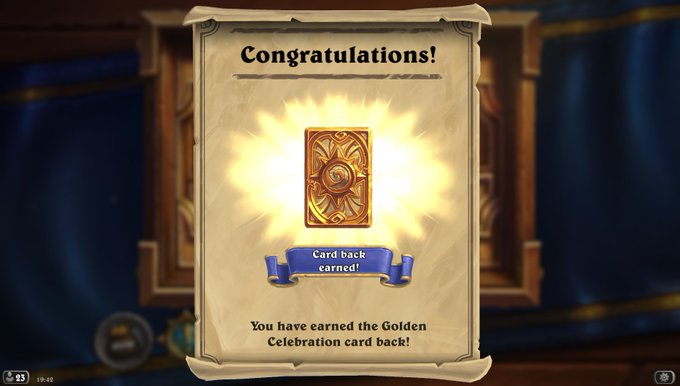 Back to TopThoughts on Hearthstone Casting
Former Community Manager and current Esports Talent Manager, Robert Wing took some time to respond to the community in regards to the HCT casting feedback that's been rampant among Reddit.
---
There's been a lot of discussion lately surrounding Hearthstone casting, specifically as it relates to the Hearthstone Championship Tour. We on the Hearthstone team wanted to take a moment to share some of our own thoughts on the matter, in the interest of clarity.

Casting is an extremely important part of our broadcasts. Casting allows for viewers to follow the action as it unfolds, provides insight into what motivates specific lines of play, and helps to create an engaging experience that offers illumination into the important narratives surrounding the Hearthstone Championship Tour and its competitors.

Our audience is a diverse one that watches our tournaments for many different reasons. While some players are extremely invested in Hearthstone and spend many hours a week reaching the very highest Legend ranks, many players play substantially less and have a different understanding of what defines high level play. One of our goals with the Hearthstone Championship Tour is to present the action in detail as it happens, and then follow up with in-depth explanations, spelling out exactly what happened, and why it's important to that particular match. We believe that accessibility will contribute to a dynamic, growing scene that's always attracting new audiences to both enjoy the game and its competitive aspect.

To that end, we want to clear up a specific misconception. Casters are absolutely allowed to dispute lines of play. Hearthstone matches are often won by the slimmest of margins, and pointing out where players had the opportunity to make stronger plays is important. What we have stressed to our casters at points is the manner in which critiques are presented; we want to ensure that all players are afforded respect, and that our broadcasts reflect the upbeat and positive nature of the Hearthstone universe.

We are constantly learning, iterating on, and working towards improving our broadcasts. The Hearthstone Championship Tour is entirely new to 2016, and while we're confident that we've made some great strides over the course of the Winter and Spring seasons, we recognize that there's still room for improvement. Community feedback is important to us, so please continue to share it. Our goal, as with many of our competitive players, is to continue improving and creating the best content we can.