Have a ton of unwanted WoW Tokens? Spend them on Hearthstone packs!
World of Warcraft players who have lots of WoW Tokens just got some good news. Blizzard has enabled the transference of WoW Tokens into Battle.net currency, effectively enabling you to turn all those unused tokens into Hearthstone cards.
To do this, you must be on a US realm and you'll need a WoW Token to spend. These can be bought in World of Warcraft using real world funds, but the tokens you'll want to convert are available for purchase through the in-game Shop. You can access the Shop through the main menu (Esc) or the row of feature buttons next to your character's bags.
Token price (in gold) dynamically adjusts based on supply and demand. These currently cost 61,775 gold in North America according to WoW Token Info.
If you have leftover tokens from previous time played, they too are able to be converted.
Select "I Need Game Time" which will then prompt you with the decision to either add 30 days of World of Warcraft game time or $15 of Battle.net Balance. Choose the latter.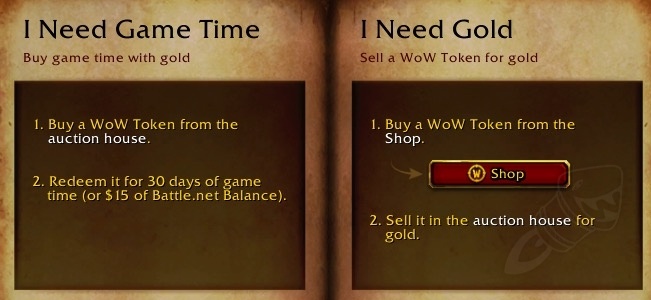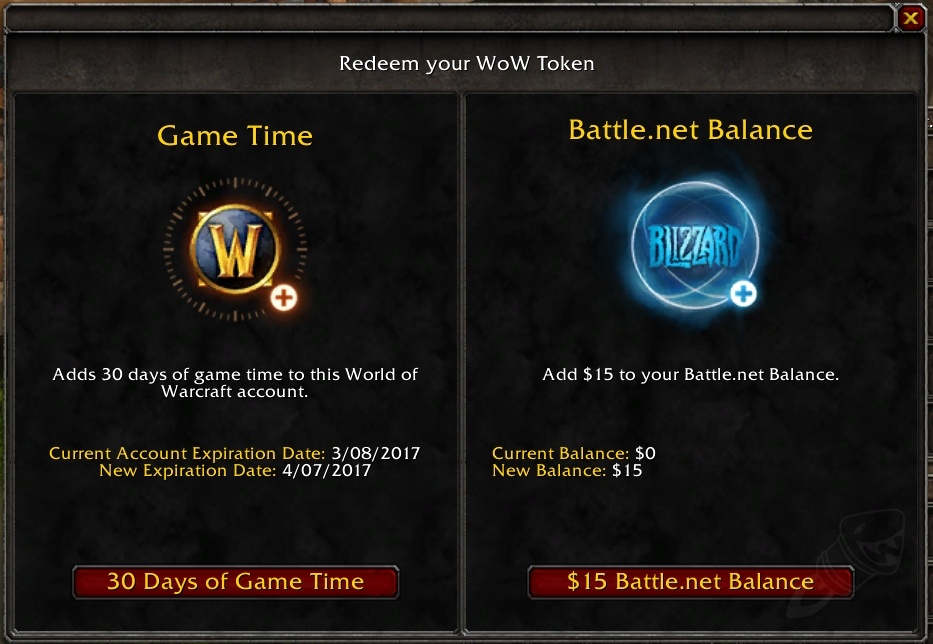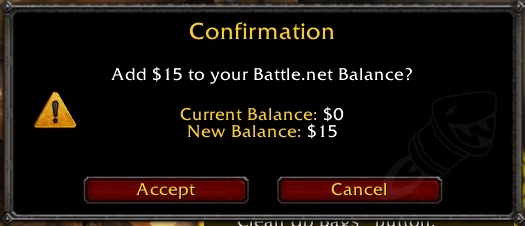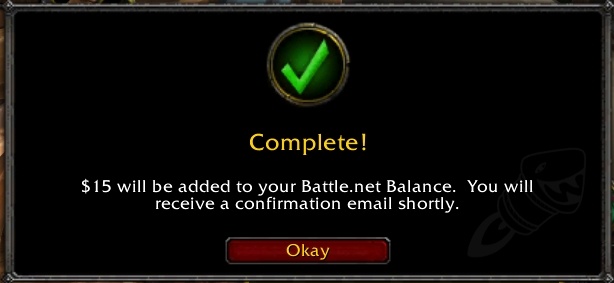 Back to TopStep 2: Spend Battle.net Balance
Here's a link to the Hearthstone Shop. This is what is currently available:
In our opinion, what you should be buying is content that is only available with real world money which includes:
Please note that there are limitations and conditions to spending Battle.net Balance.
Funds added to Battle.net Balance are not refundable (except as otherwise provided by law), and cannot be converted into cash.
Battle.net Balance can only be used to buy designated Blizzard Entertainment products and services.
Battle.net Balance can only be purchased and used with your country's currency.
Battle.net Balance is non-transferable. However, the Battle.net Shop allows you to purchase some items (such as digital games and World of Warcraft game time) as gifts you can share with others.
You can't use Battle.net Balance to purchase items from the Blizzard Gear Store, in-game products for Hearthstone on mobile devices, or World of Warcraft subscriptions—though you can buy game time in the Battle.net Shop.
If you are not using a Battle.net Authenticator, you will be limited to a specific balance.
Battle.net Balance can't be combined with another payment method to make purchases. As with any payment method, local taxes may apply to purchases made with Battle.net Balance.
You cannot make partial payments with Battle.net Balance. If you don't have sufficient balance to cover the purchase, you must add additional Battle.net Balance funds or use another method of payment.
A maximum of 36 Tokens every 24 months may be purchased for gold via the Auction House, to be used for game time or Battle.net Balance.
Players may hold a maximum of 10 Tokens in their inventory at one time. This limit is shared across all characters on the Battle.net account.
For more information, check out Wowhead's post on the update.