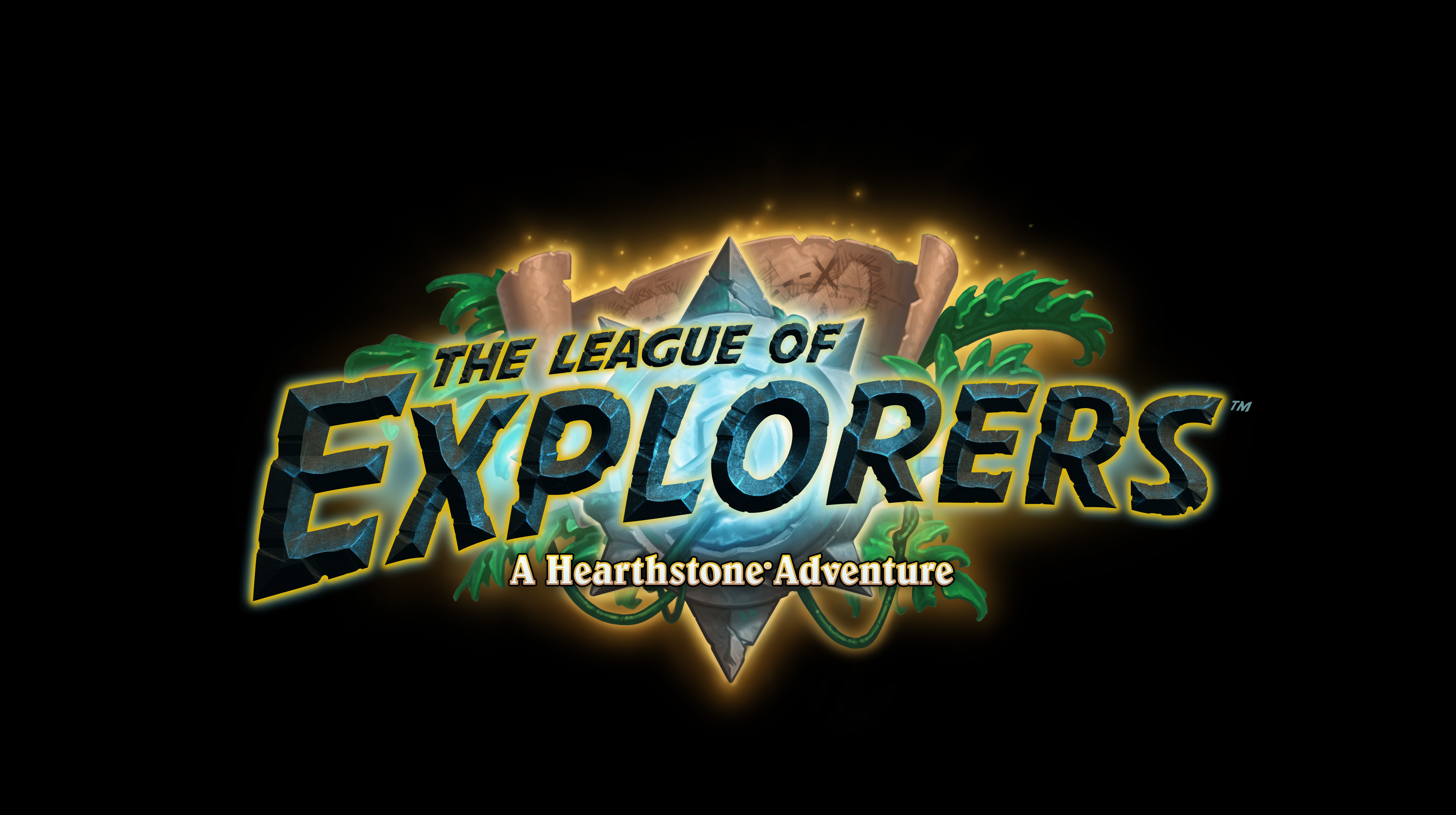 Continuing the release trend, Blizzard has announced The League of Explorers Hearthstone adventure. Touting "heroic new characters and dastardly villains, dangerous temples, and deadly traps that will require innovative decks and strategies to conquer," League of Explorers will add an additional 45 cards to your collection.
The story follows Elise Starseeker, Reno Jackson, Sir Finley Mrrgglton, and Brann Bronzebeard on their journey through the deepest jungles and hidden temples of Azeroth. With the goal of acquiring an ancient artifact, you'll need to face many perils as they navigate through the Temple of Orsis, Uldaman, The Ruined City, and the Hall of Explorers!
As per usual, the content will release on a weekly schedule starting on November 12 with a break for Thanksgiving.
"League of Explorers is a fun mix of memorable locations from Warcraft and exciting new locations to battle through," said Mike Morhaime, CEO and cofounder of Blizzard Entertainment. "Players who join the expedition are in for a good time and will walk away with some great new cards for their collections."
And this time around bosses aren't just adversaries. Some like this Temple Escape simply challenge you to survive through the ten turns it takes to escape. Along the way you'll encounter events both good and bad.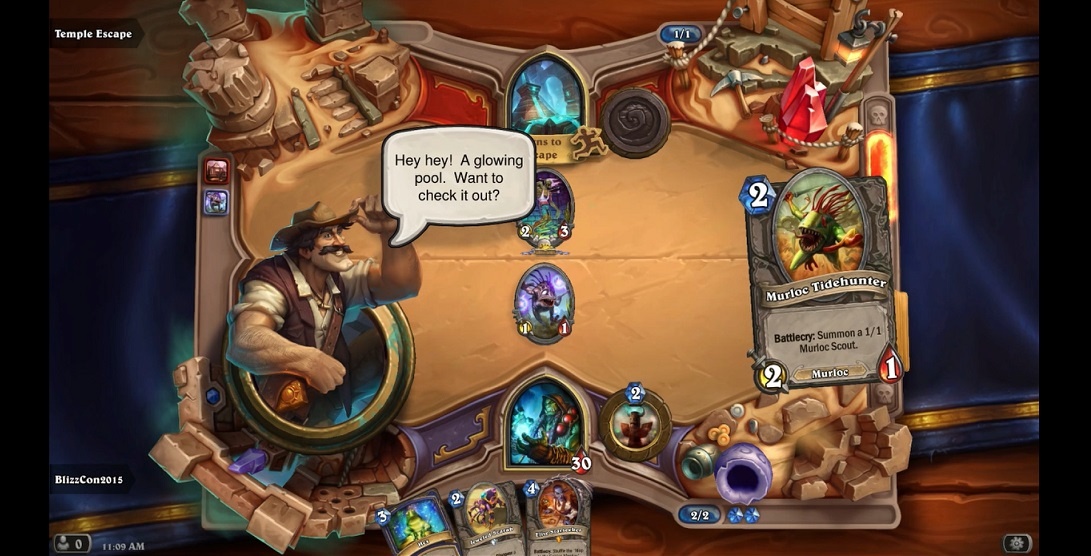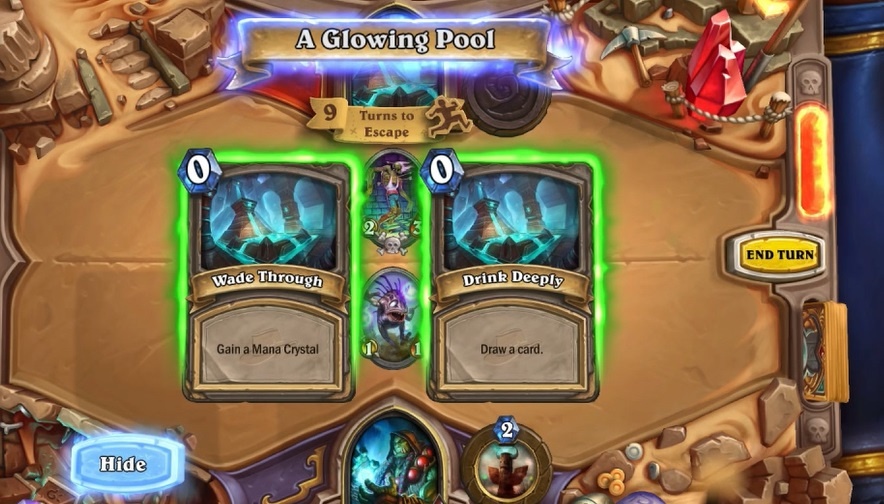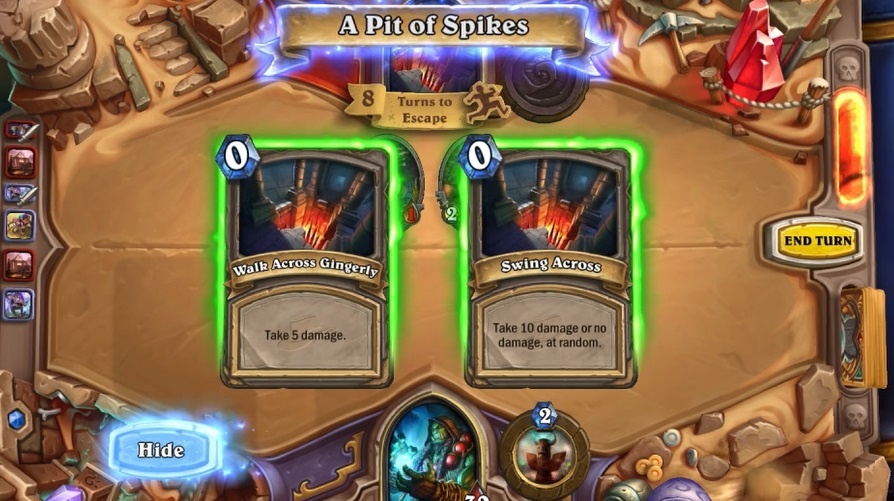 Some of the cards were revealed and match the theme of searching for artifacts and other rare treasures! Discover, a new keyword is also being added. When someone plays a card with Discover, that player is presented with three random cards to choose from that can be used by their class!

Explorer's Hat
and

Jeweled Scarab
are simply two cool new cards while the following sequence marks a completely new experience for Hearthstone:

Elise Starseeker
adds a

Map to the Golden Monkey
which when cast puts

Golden Monkey
into your deck.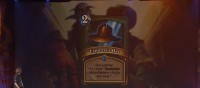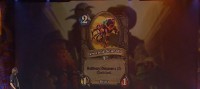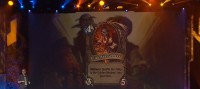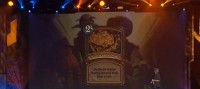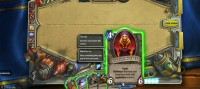 We also had a few other cards revealed during a gameplay video provided including

Murloc Tinyfin
,

Tomb Spider
, and

Everyfin is Awesome
.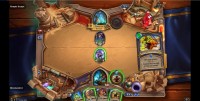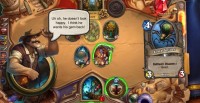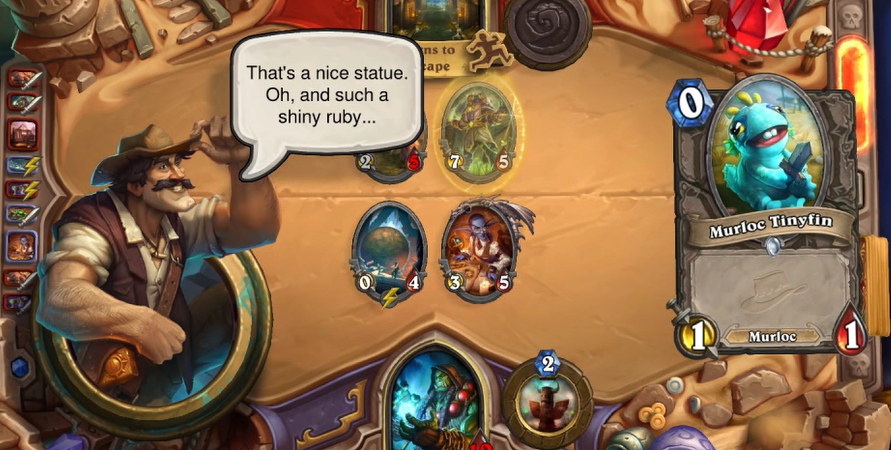 This is what you'll see when you play a minion with Discover, for example with the Shaman class: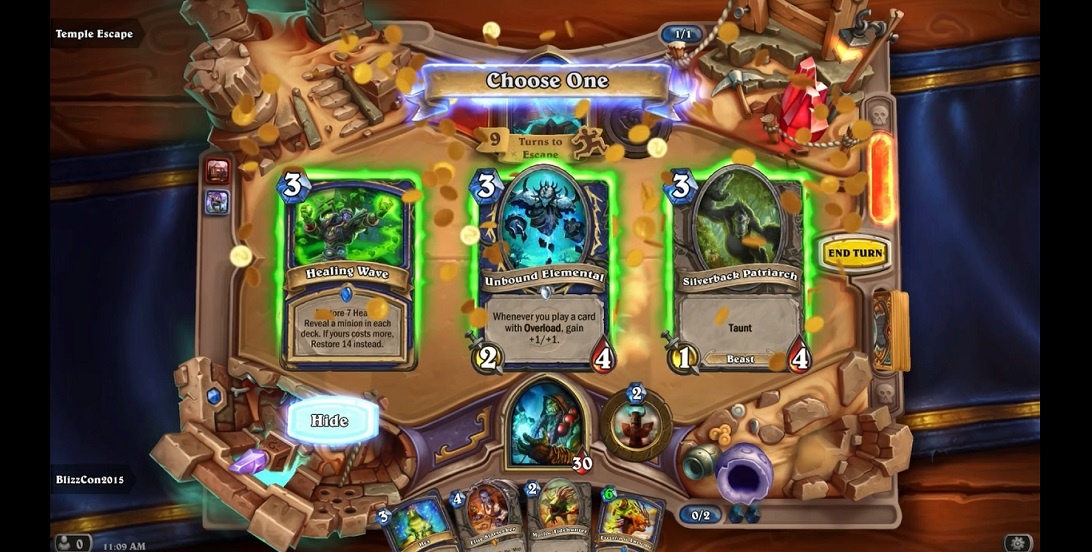 Along with this you'll gain access to the usual class challenges, earn a special card back for defeating the Adventure on Heroic, and find the cards added to the Arena with each release.
You'll be able to purchase access to the entire Adventure for $19.99 USD. Single wings will be the same as they have been in the past at 700 gold or $6.99 USD each. Discount-bundles will be available based on the number of individual locations you have already purchased.
Want to see it all in action? We've got an entire match available for viewing!