This month's Loot Crate
will contain two Hearthstone Items and you can save $3 by using the code
HEARTHSTONE
at checkout. This month's theme is SUMMON, and you can see a Jaina icon in blue and a Gul'dan icon in green.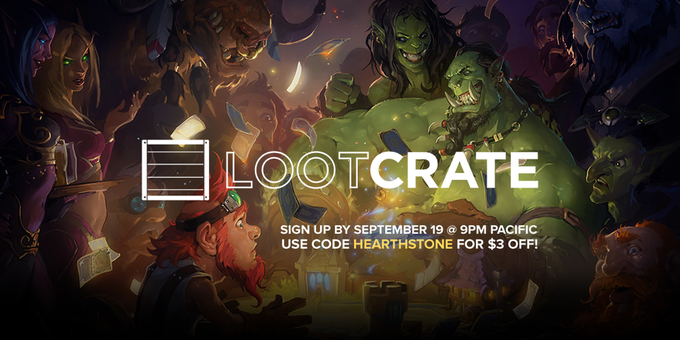 How Loot Crate works
:
1. JOIN LOOT CRATE: Select your plan and cancel anytime.
2. WE CURATE EPIC ITEMS: We partner with great brands to deliver an epic experience every month!
3. YOU GET LOOT!: Unbox your crate and share your experience with the Looter Community. Plus, you're automatically entered to win a monthly Mega Crate!
You won't know what exactly what is in this month's crate but the pictures does give some hints as to what else might be inside. If you're interested in
signing up
, you have until September 19th at 9 PM PST to order this crate.
The Nozdormu Jousting Bug is being looked at:
.
@ismith1781
@CM_Zeriyah We are aware of this bug and are looking into fixing it.
Arena Rewards:
---
09/3/15
It is no longer possible to detect when a minion that has been used in a joust has been drawn.

Resolved an issue with Nozdormu and joust that resulted in players losing a large portion of individual turns.