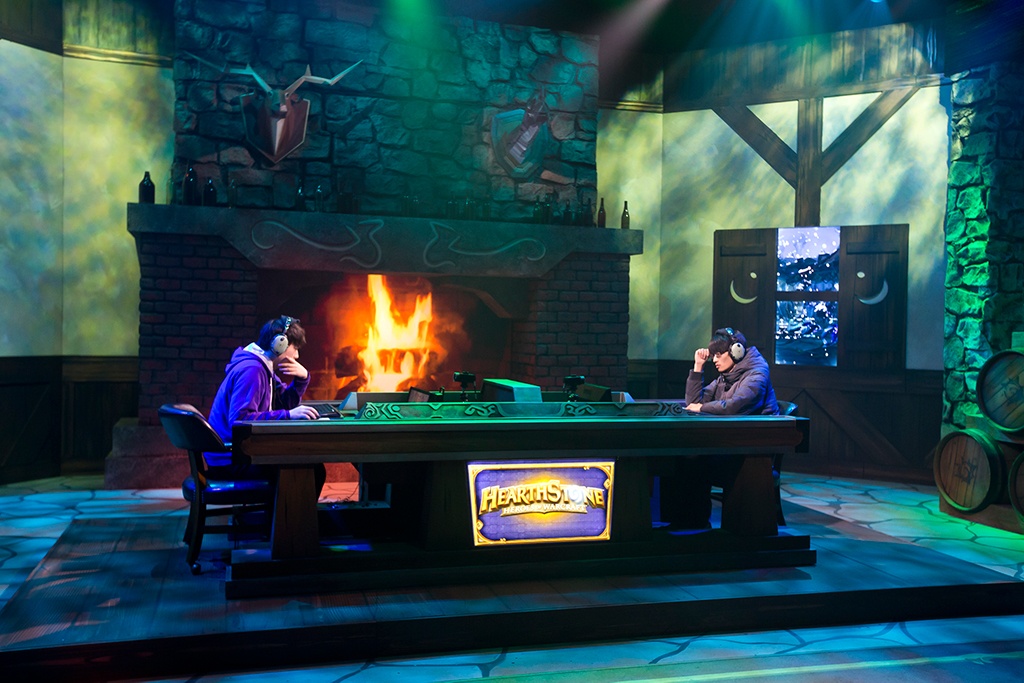 Competitive Hearthstone is unique in that the majority of tournaments are hosted by third party organizations and not Blizzard or another esports organization like Major League Gaming. Instead any company can organize and run a tournament and apply to be Blizzard sanctioned, giving the tournament an opportunity to reward Hearthstone Championship Tour (HCT) points. There are
a variety of requirements
for this including limiting how far star players can receive automatic byes and how large the prize pool must be. That's all great for the sake of those trying to follow the competition, but anyone will tell you that it's inherently hard to figure out what tournaments are worth following.
Because of this, Blizzard hosts its own Season Preliminary tournaments where the top finisher automatically earns a spot in the World Championship at BlizzCon this fall. Three players will be rewarded through the Winter, Spring, and Summer preliminaries so obviously being among the top 128 in the season and having a shot at competing in these brackets is among every pro players top priorities. But unfortunately there's lots of room for miscommunication, especially with Blizzard not revealing exact cut off dates until close to the season's end.
This season it has proven to be an issue for James "Firebat" Kostesich who flew to an event in Brazil in hopes of securing his spot in the Spring Preliminaries. But when the top 128 players were announced, Firebat was not among them, seemingly missing the points he should have been rewarded for his placement. As it turns out, due to the finish time of the tournament his points were technically awarded to the Summer season and not Spring, costing him a chance at competing this month.
That said, he's made quite an extensive
post on Reddit
detailing his situation and pleading for improved communication from tournament organizers who are promising players HCT points. You can find it in full below:
I flew out to a LAN to compete for Hearthstone World Championship points. I was told that the points would count for Spring because the event happened during the Spring season. However, 10 days before the event (after my flight and hotel were booked). The cutoff date for the spring season was announced to be May 1st. The event runs from the 29th of April until May 1st, but the cutoff was at 3am and the tournament finished at 5pm, so I was not awarded the points. Prior to planning my trip I had no idea what the exact cut off would be. The cutoff blizzard decided was also the finish date for all of the NA Majors events.
link to post
The only reason I attended this event was because at the time I believed my points would be towards Spring, so I could qualify for prelims. But the cutoff date is decided upon the tournament ending, I guess? And the cutoff date was a big secret until right before the season ended. And it is different than the Winter cutoff which was on the 5th of the month.
link to post
I noticed I did not get points, so I inquired about it. And Blizzard said
Hello James,
The Global point cut off for events to provide HCT Spring Season points was 3 AM PDT on May 1st, 2016. This means that the event had to finish before this time for it to award points for the Spring Season. This was announced a few weeks ago and then also posted on April 18th to
http://us.battle.net/hearthstone/en/blog/20097356
. This means that EGLX and Copa America Season 2 (both Majors in the Americas Region) which concluded after the 3 AM May 1st, 2016 cut-off are not providing points for Spring but rather Summer Season. I hope this helps clear up any confusion around the time frame for events award points to which season and we will work with organizers to ensure that is made more clear in their communications in the future.
Regards,
Esports Team
I then looked into it further, and Copa America did provide points to the players... So I told them this and they said that it was a mistake and revoked the points from those players. Makes me wonder how many other tournaments gave incorrect points and such.
Overall, I would really appreciate it if the qualifiers and such for the most important tournament could be a little bit more organized so I don't end up flying out to a LAN that does not benefit me. When instead, I could have used my time to do events that would benefit me for spring. And I think it is not great to schedule the cutoff day on the same day as the only LAN Majors in North America after all the players have setup their travel.
This affected other players besides myself a lot of players flew to Brazil for a 2,000$ first place prizepool tournament which barely covers their flight simply because they needed to lock up a few Blizcon points for the season.
EDIT:
There is a 36 page 12 point font PDF file available
here
and on page 16 of the PDF (page 12 of the actual document) it states in 5.4. section (a)
The Tavern Heroes and the players who are ranked in the top 128 positions in the Americas including all players tied for 128th place (as recorded in Blizzard's Spring HCT Ranking system) as of May 1, 2016, will be invited to compete in the 2016 Spring Season Championship Tournament.
So, even in the original comprehensive rules released months ago it does not have an official time for the season ending. The actual end time was decided on 4/18/2016. I was not even aware that the rulebook had these dates, but now that I am aware, they are also different than the dates blizzard posted on the 18th, so if plan on qualifying for summer the actual cut off date according to the official rulebook is the 5th, not the 1st like the post on the 18th says.
EDIT 2:
Blizzard employees contacted me and said "So I chatted with some people and it looks like it's a legal issue and it won't be able to be changed. I did update the blog to match the rules for the summer season points cut-off, so thank you for calling that out."
There's inevitably some communication issues when there are three parties (players, Blizzard, and tournament organizers) involved. But it seems as if players oftentimes end up on the short end of the stick, either not receiving points they're promised or flat out having tournaments suddenly
stall out for months on end
.
Hearthstone's esports scene is relatively young, only a couple of years old, and while Blizzard is making strides towards improving its legitimacy, there's still a long way to go. Hopefully professionals like Firebat can help the esports team remedy areas where its lacking.