The first wing of Naxxramas is out today with each subsequent week being the release of a brand new wing to dig into. The best news? It's free for everyone for a limited time! We've got all the information you need right here to exterminate these creepy crawlies in our database.
You can see a
full list of the normal and heroic Naxxramas bosses here
and
their hero powers here
. The
uncollectible Curse of Naxxramas cards
are also worth a look as they haven't been previewed by Blizzard before; these bosses have some tricks up their sleeves!
And, as we previewed yesterday, you can also
find a list of all collective Curse of Naxxramas cards here
.
In preparation for your infiltration of Naxxramas, we've added a new feature to our
deck system
: you can now mark your deck as being intended to defeat a particular boss. We hope this feature will be especially useful for those taking on Heroic Naxxramas where the bosses are significantly tougher and special decks might help you take them down.

Back to TopThe Arachnid Quarter Quick Guide
Arachnophobes, cover your eyes! These three bosses and all their cards are particularly creepy and annoying to deal with. It's dangerous to adventure alone in a necropolis, so take us--we've written up some quick summaries of the fights so you don't have to go in blind.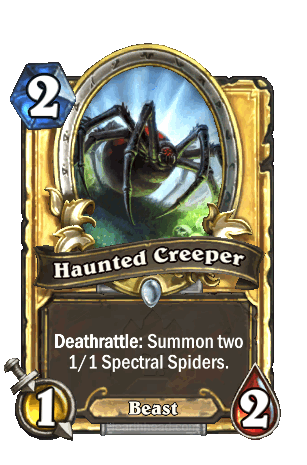 Anub'Rekhan is a fairly easy fight that relies on good board control. Either zerging him down or stalling him out with impeccable board presence are options, so most decks will work here including default ones. Of course, Druid and Mages are the natural counter to this guy--their hero powers work very well against his. Regardless of the class you choose, it's important to have removal and taunts or else you will get overwhelmed; having the ability to put out a 3/1 every turn gives this spider boss quite an edge.
Anub'Rekhan himself has a fairly solid deck. He has a lot of single target removal from multiple classes.
His DeckRewards
For defeating Anub'Rekhan, you will get two

Haunted Creeper
cards.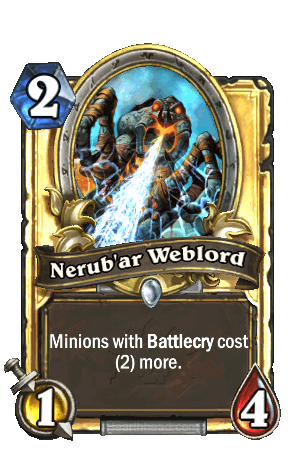 Grand Widow Faerlina is a difficult fight due to her hero power:

Rain of Fire
. In general, she throws out the tenants of Hearthstone with this ability--actively punishing players for card advantage. Control decks aren't welcome here, she's a fight where you want to rush her down as fast as possible, and as such she's particularly overwhelmed by zoo or other rush decks.
Faerlina uses a lot of warrior cards, relying on hurting herself as well as you to gain power through enrage and deathrattle mechanics. Her unique

Worshipper
s give her even more removal and she did not seem to be capped on how many she could have in a deck; at one point, she had three in play during one of our playthroughs.
Her DeckRewards
For defeating Faerlina, you will get two

Nerub'ar Weblord
cards.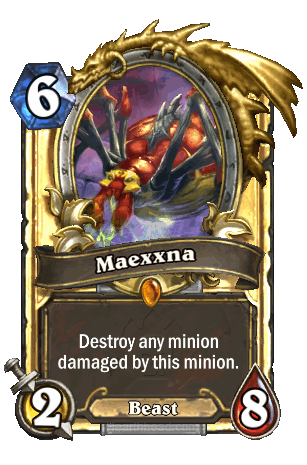 Don't worry, Maexxna is actually quite a pushover compared to Faerlina! She is the polar opposite of the Grand Widow, encouraging an overwhelming board presence due to her hero power:

Web Wrap
. Since she can remove a card at random, the more cards you can put into play on a turn the better. Decks that rely heavily on battlecries or combos, such as Miracle Rogue, really shine here. Conversely, if you rely a lot on buffs, she can be more devastating, since there's nothing like losing a card you just put

Blessing of Kings
on. With Maexxna, you want to clear her board as much as possible--since her hero power can send a card back to your hand, it can benefit you a lot to trade and hope that she sends your wounded card back to your hand effectively healing it to full.
Maexxna herself has a wide range of cards which will overrun the board if left unchecked. Through her deathrattles and cards that buff other cards, she'll go for having a lot of cards in play while using

Web Wrap
to reduce your presence.
Her DeckRewards
For defeating Maexxna, you will get two

Nerubian Egg
cards. You will also get

Maexxna
to call you own--in a slightly less overpowered format.
Back to TopCurse of Naxxramas Launch Trailer & Announcement
Blizzard also posted a trailer and a news post showcasing the Archnid Quarter's release.
Back to TopCurse of Naxxramas Patch Notes
Blizzard also posted the patch notes. One change of note unrelated to Naxxramas is that

Eaglehorn Bow
was nerfed this patch, now only gaining durability with friendly secrets.