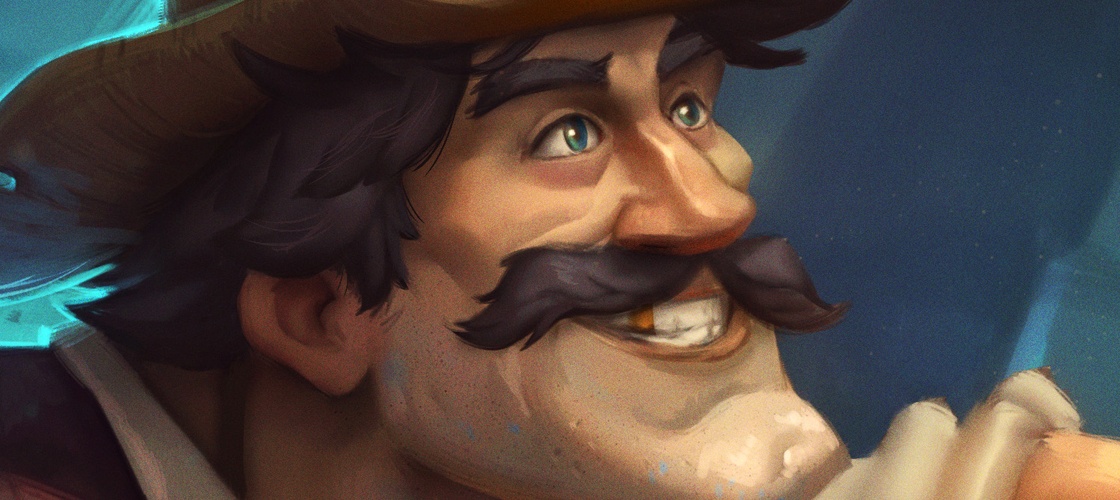 Back to TopThe man (with the hat), the myth (-ical adventurer), the legend (-ary tomb explorer).

Reno Jackson
is just one of many neutral legendaries that Blizzard has released in hopes of creating new deck types. Needless to say they were successful, but if you've been under a rock, here's the rundown. If your deck contains no duplicate cards when you play Reno, you'll be healed to full health. This means you can run more than one copy of a card as long as at least one of them has been drawn or played prior to the Reno activation. And healing up to 29 points of damage is no joke.
Back in the more aggressive days prior to Standard, Reno could frequently outright win you the game. And while some, ourselves included were worried about
the inherent power creep
, that's since been eliminated with Standard. Now that multiple sets are rotated out each year, there's always going to be an evolving array of cards to choose from, which is particularly great in a deck that is so flexible. But with both Standard and Old Gods, something amazing has happened: there are multiple archetypes within Renolock itself.
Granted each decklist is basically the same: run high value minions, emphasize Control, utilize your hero power, and have a good amount of healing. But there's been a big debate over when it's appropriate to run each of the different win conditions.
(Note: Older decklist, not compatible with Standard)
The first version of Renolock simply tried to outlive your opponent with high value minions, strong removal, and card advantage. This particular version of the deck has lost a lot of popularity due to the smaller field of cards in Standard. No longer can you just run the strongest cards in each slot since we've lost a lot of tools like

Dr. Boom
and

Antique Healbot
(RIP Brann combo). It's just a lot harder to run 30 strong cards without a dedicated win condition. As such, the ladder is now populated with three very specific archetypes.

Combolock is one of the older versions of Renolock which aims to survive into the late game get an activation or two off of

Emperor Thaurissan
. This allows for a massive 20 damage finisher from

Leeroy Jenkins
,

Power Overwhelming
, and

Faceless Manipulator
.

The Black Knight
has somewhat fallen out of favor since the release of Old Gods. It had become a staple inclusion thanks to C'Thun Druid and other Taunt heavy decklists, but those too are now seeing less play. You can easily tech in something like

Harrison Jones
for added card draw or

Acidic Swamp Ooze
for the same removal, but with a tempo advantage.

Stampeding Kodo
can be great it you're encountering a lot of Warriors. It easily deals with small threats that can pose huge issues over time like

Armorsmith
and

Acolyte of Pain
. That said, it's not always incredibly useful, but it does offer some added removal if you can't quite keep up with the aggro.
This specific version of the deck really shines against N'Zoth Paladin, which oftentimes can't deal with the immense burst coming from your hand as it's better fit to deal with attrition. Freeze Mage on the other hand is a bit stronger against this approach because of

Ice Block
which keeps them from getting finished off in a single action. Tempo Warrior can really screw up your game plan as it has just as much card draw but much more pressure in the early game, meaning you'll be on the defensive for quite some time. If they manage to accumulate a large sum of armor you'll also find yourself in a losing situation.
Shamans are generally a bad class to run into with Aggro being a pretty terrible matchup while you've got a 50/50 chance against Midrange. This remains true throughout all forms of the deck.
+
N'Zoth Paladin
=
Tempo Warrior
-
Miracle Rogue
-
Freeze Mage
-
Shaman

Though Zalae also chooses to run the combo in his N'Zoth Renolock, the added Old God helps in matches of attrition where both sides are simply trying to out-value each other.

Corrupted Healbot
is a key sign that you're facing this type of deck as an additional 6/6 makes N'Zoth that much harder to deal with. Resummoning all of those powerful deathrattles is meant to be a big tempo swing to secure the game.
Most also utilize

Alexstrasza
or

Lord Jaraxxus
as well, but very few opt for both.
Here we see N'Zoth Paladin remain atop, but it can sometimes be toss up as we once again have to deal with the realization that the game entirely depends on who gets the most value from their cards. We also give this deck an edge over Combolock against Tempo Warriors considering this variation has more midgame pressure. Freeze Mage is also a bit easier since you have more disposable midgame threats, we wouldn't go so far as to call it favorable though.
+
N'Zoth Paladin
=
Tempo Warrior
-
Miracle Rogue
-
Freeze Mage
-
Shaman

Stalling is the name of the game here. Unlike Combolock however, you're ultimately hoping to utilize a large

C'Thun
to swing the tide of the match in your favor.
There's a lot less room for meaningful tech cards in C'Thun Renolock since you ultimately have to run cultists to help buff up C'Thun to a meaningful level.

Usher of Souls
is one of the prime targets to get cut if you ever want to tech something in badly enough, it rarely gets a ton of value, maybe just an activation or two.

Doomcaller
is a much better choice if you find yourself facing a lot of Control. Double C'Thun anyone?
As always you can also consider:

Ragnaros the Firelord
,

Alexstrasza
, and

Lord Jaraxxus
.
Since we have more early game minions, especially ones like

Disciple of C'Thun
which not only help deal with, but apply pressure, Tempo Warrior is probably the easiest to deal with here than in the other two options. Miracle Rogue and Shaman remain the worst archetypes to face, but at least you can take comfort in knowing that the pings from C'Thun will at least leave that Freeze Mage at 1 HP.
+
N'Zoth Paladin
+
Tempo Warrior
-
Miracle Rogue
-
Freeze Mage
-
Shaman
Keep in mind that these matchup ratings are just our opinion and certainly don't account for the majority of decks on the ladder, just the most popular ones at the moment. So while it may look like Renolock isn't a great deck to win with right now, everyone has a different experience and it's entirely possible that you don't run into many Shamans or Miracles Rogues.