Back to TopBoom Bot vs. Annoy-o-Tron! Tavern Brawl
This week's Tavern Brawl uses pre-made decks in an epic Mech battle between Annoy-o-Tron and Boom Bot! Each has a set of brand new Hero Emotes so don't forget to say Hello, Hello, Hello to your opponent at least once... and probably a few more times.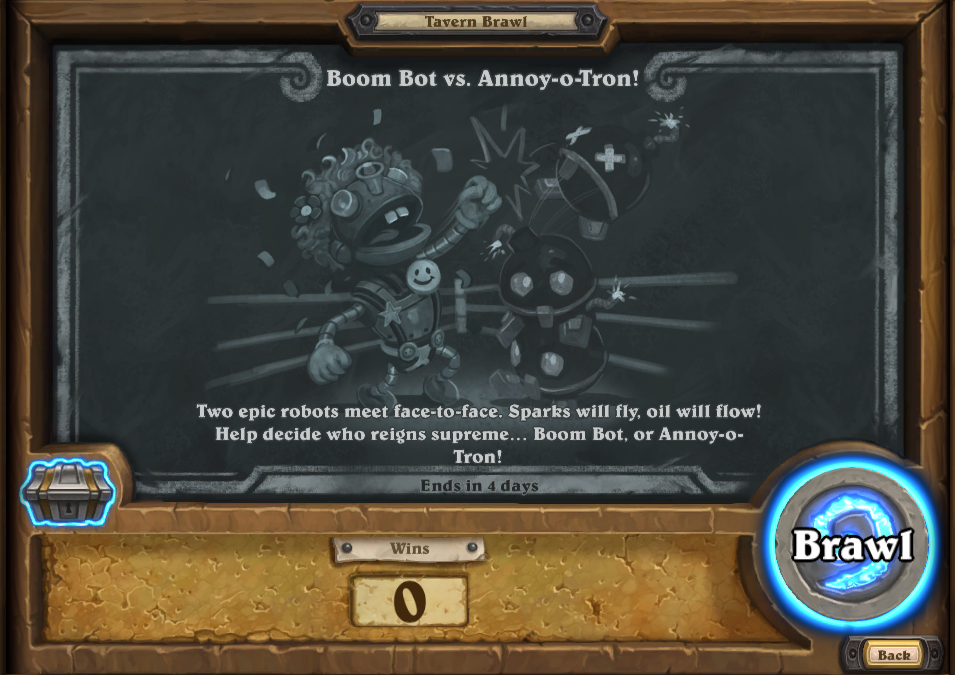 The spells, weapons and non-mech minions are consistent whenever you play the decks. The only thing that changes is what Mech cards are placed in the deck. The Deck Lists below may contain more than 30 cards because of the random assortment of Mech minions that were added. The exception appears to be

Dr. Boom
and

Mekgineer Thermaplugg
which are played in their respective decks often.
The Annoy-O-Tron has the hero Power

Hello! Hello! Hello!
.
Weapons:
The Boom Bot has the hero Power

Boom Bot Jr.
.
Weapons:
This week,
The Angry Chicken Podcast
talks about the Worlds Regional groups, the Blizzcon virtual gifts, the Shaman class and more!
On The Angry Chicken #105 the TAC crew talk the Hearthstone World Championship Regional groups, the BlizzCon virtual gifts, the Abios Grand Tournament, and HearthArena's upcoming companion app. Garrett, Jocelyn and Dills also take a deep dive into Shaman and why they still haven't risen to the top.
You can email the show at TACpodcast@gmail.com. Follow us on
http://Twitch.tv/amovetv
 for the live shows.
The Angry Chicken is podcast about all things Hearthstone. Garrett, Dills, and Jocelyn cover news, strategies, crazy game stories, and take your emails every week. Jobs done!