The Hearthstone design team hosted its final BlizzCon 2015 panel and discussing how Tavern Brawls come to be and answering a few rounds of Q&A
Missed the panel? Here's everything that happened:
9:45
The panel will be starting shortly.
10:00
Should be starting any time now.
10:06
Mike Donais, Senior Game Designer takes the stage.
10:07
First design goal of Tavern Brawls was to be weekly, to give players more content to chew through between expansions/adventures.
10:10
Next goal was variety, to try new things and improve them over time.
10:11
Donais is now breaking down the three different types of Brawls: build your own deck, pick a class, and prebuilt.
10:12
Most of this information has been talked about before, players that like to innovate like to build decks, pick a class is very replayable since it's random, and premade decks give you access to cards you may not own.
10:15
Co-op Tavern Brawl now being talked about. It didn't make sense for Blizzard to completely rearrange the UI and players to have them both on one side of the field.
10:17
Once Ben Brode realized they could just use a minion that swapped sides, it allowed them to push out co-op a lot sooner than before.
10:19
This came with a ton of challenges, how do you make Mechazod stand out? Where do you put him on the board?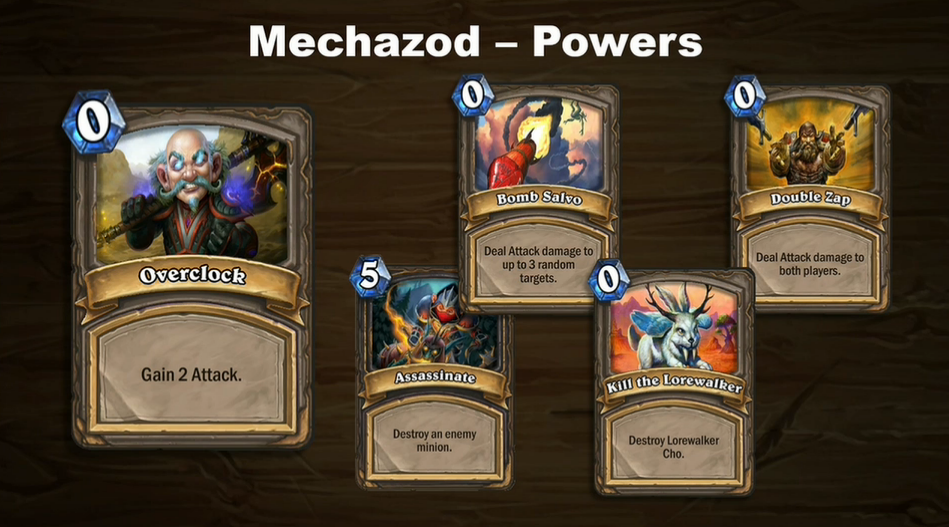 10:20
How do you build decks that are actually challenging? Blizzard chose cards that promoted cooperation and communication.
10:22
The most popular brawl is Randomonium, where you get a random deck and the card costs are randomized each turn.
10:24
More new brawls and types of brawls are coming soon.
10:25
Nefarian and Ragnaros will be returning, the former will have one less mana crystal than before. Should help things be more balanced.
10:26
The Summoning Stone exists because of The Great Summoner Competition brawl.
10:27
As you may remember, Captain Blackheart's Treasure was set to be a preview of the upcoming Discover keyword.
10:28
Captain Blackheart's Treasure will return in about three weeks.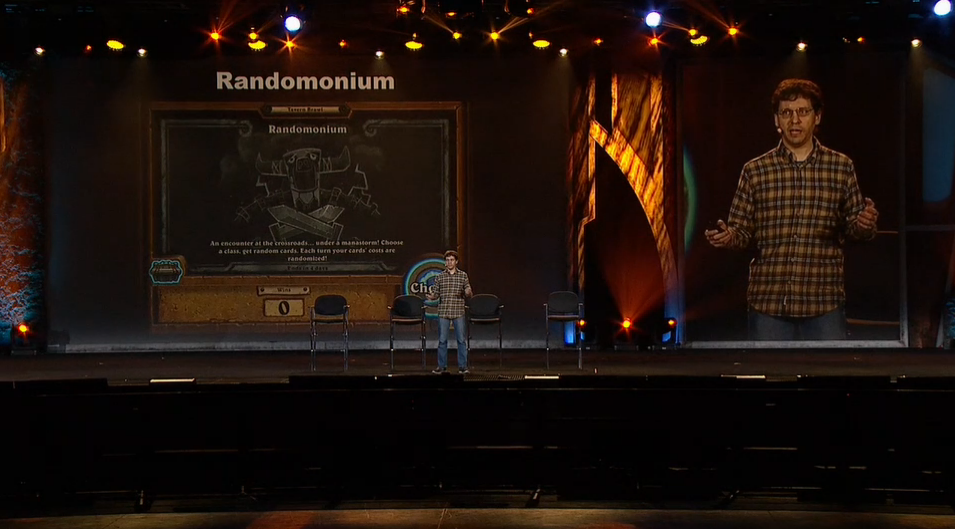 10:30
Q&A begins. Panel is Mike Donais, Pat Nagle, Ben Brode, and Yong Woo.
10:31
Donais says good RNG gives you some sort of guaranteed value.
10:32
Question regarding making the game more accessible. Brode says "we need to do a lot of work to keep it accessible." One designer is now dedicated to the new player experience. "We finally have some good ideas. . .but we'll be announcing some of those in the coming months."
10:34
Will golden cards be coming to Arena? Yong Woo says they want to do it but it's never quite at the top of their priority list. "Sooner than later."
10:35
Attendee wants to know if you'll be able to chat with your matchmade opponent in co-op Brawls. Donais says maybe they'll prompt you to add your opponent at the start rather than after it's over.
10:36
Mysterious Challenger was really meant to help Paladin secrets along, make them relevant. Challenger is supposed to be strong to make up for how weak the secrets are. Donais thinks we'll see decks tuned to be good against Secret Paladin over time and that should help.
10:39
Brode says he easily sees new quests being added. None coming with League of Explorers, but patches after are more feature focused.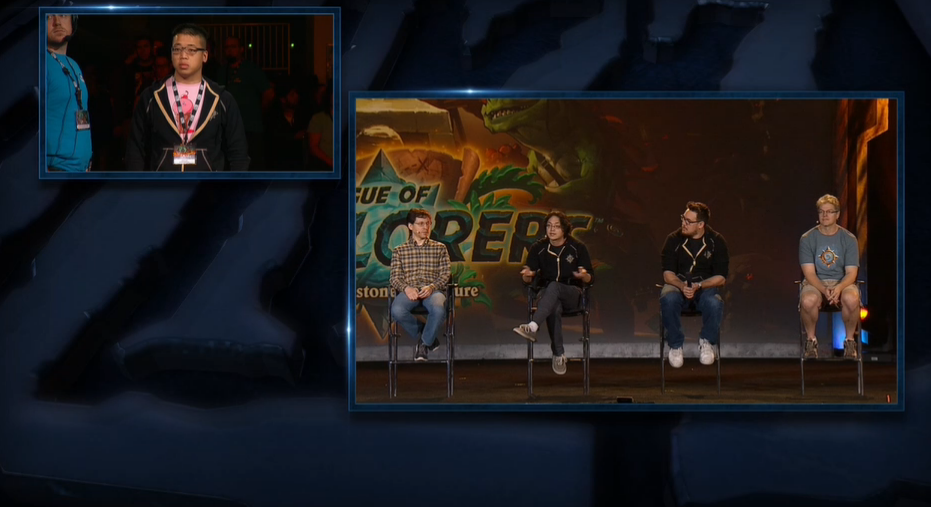 10:40
Any new tribes? Murlocs currently the focus, Mechs get one card, there's a couple Beasts, but Brode says, "usually we like to have peaks and valleys. In the next thing we'll probably see more stuff."
10:43
Someone wants to know why you can't come to BlizzCon from a different region and play against folks from NA. Woo says the reason they don't currently do this is because of maintenance timing. "It's not a cheap feature for us to build. . .but it's a really good idea, I understand where you're coming from," he continues.
10:45
Tournaments? "We really like the idea of tournaments." But they could theoretically try something like that in a Brawl.
10:48
Brode wants to more easily denote which heroes you have quests for, so you don't have to go back and forth as much.
10:50
Interesting card names? Huge Toad, named after Hugh Todd.
10:51
Why can't you choose which pack you get? Expert Packs are stressed to help accelerate new players. Arena was meant to stress the free to play nature, though Brode admits it wasn't a hugely positive reaction so they're looking at it.
10:53
How does Blizzard choose what to boost: aggro, control, etc? Donais says they just like to put options out there for specific archetypes, but they don't really focus on certain types of decks, they just want all decks to be good.
10:55
On average Woo says the difference between aggro and control is really around two to four minutes faster, not nearly as exaggerated.
10:56
New formats? Brode says these would provide solutions for some of the issues they're having. "We're talking a lot about those kinds of things..."
10:59
Any promotional cards? "So much of what a card does is immediately identified by it's art," says Brode. The developer is a little bit scared of that, but it worked out okay with heroes despite concerns.
11:00
How do the RNG fueled cards effect how you design? There's so many options Blizzard often doesn't worry about that. For example, two drops from Piloted Shredders don't really get any thought.
11:01
Panel ends.