Back to TopBlackrock Mountain Revealed!
Blackrock Mountain, the newest Hearthstone adventure, will be released
next month
with 5 wings, 17 bosses, and 31 new cards!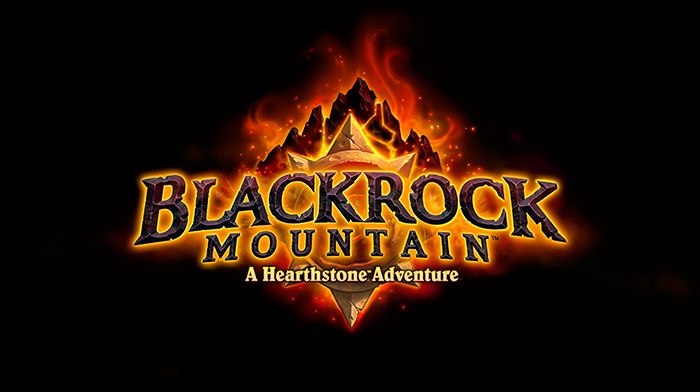 You can view the entire PAX East presentation
here
.
Back to TopRevealed Cards Added to Site and Deck Builder
We've added the cards that were revealed for the adventure! You can find them in the
Cards section
, and add them to decks with the
deck builder
to share
decks using them
!

The new game board looks amazing! Zeriyah posted
a Vine video
of a clickable periscope appearing in the top-left!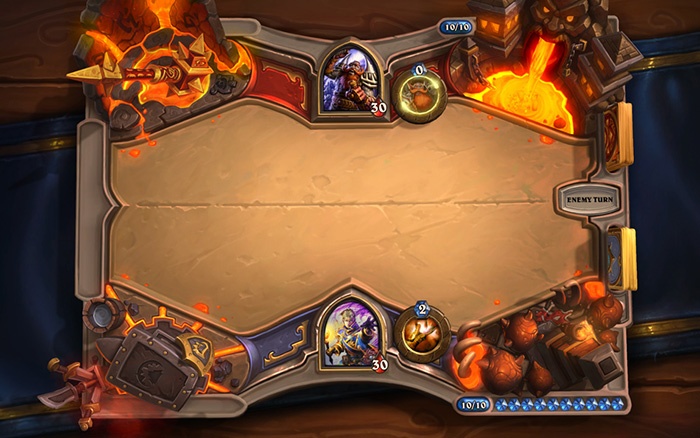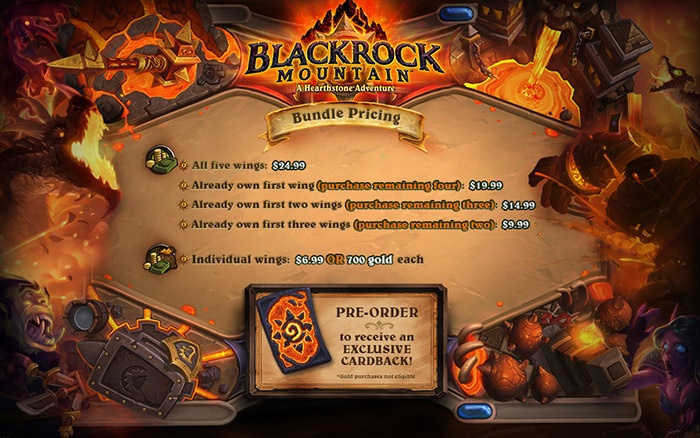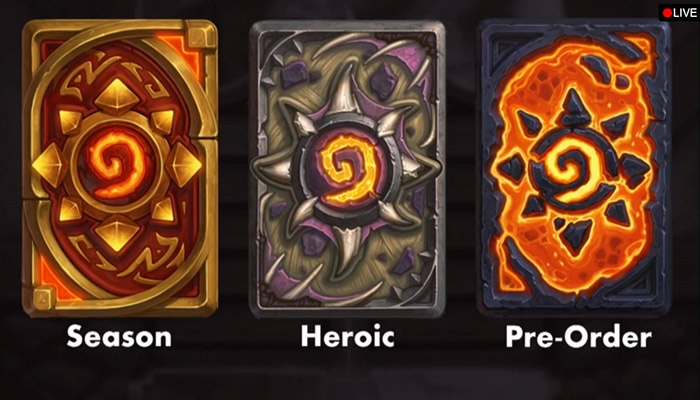 Back to TopBlackrock Mountain Wallpaper
We've resized the Blackrock Mountain key art for you for use as a desktop background!
Back to TopNew Blackrock Mountain Cards and Art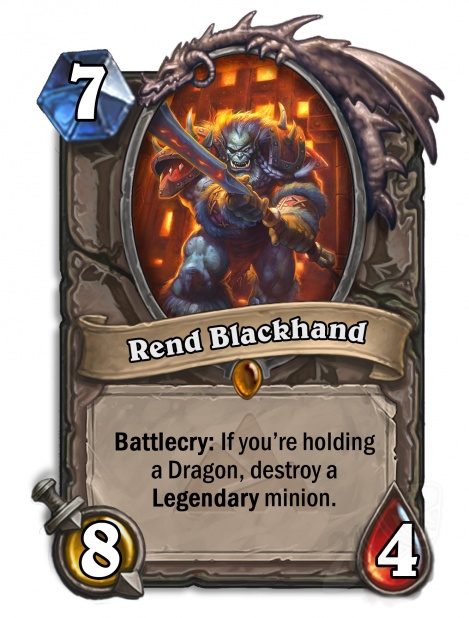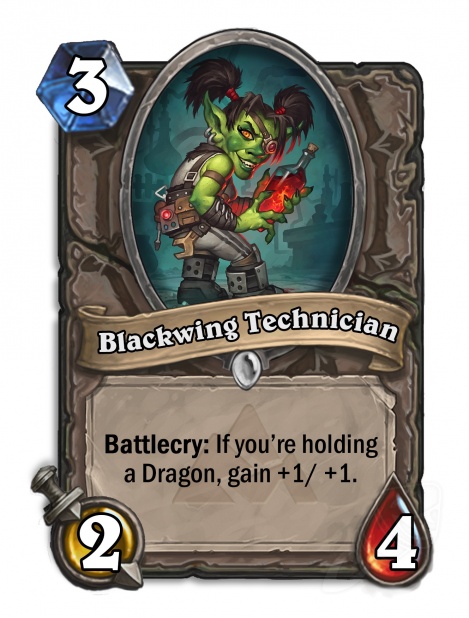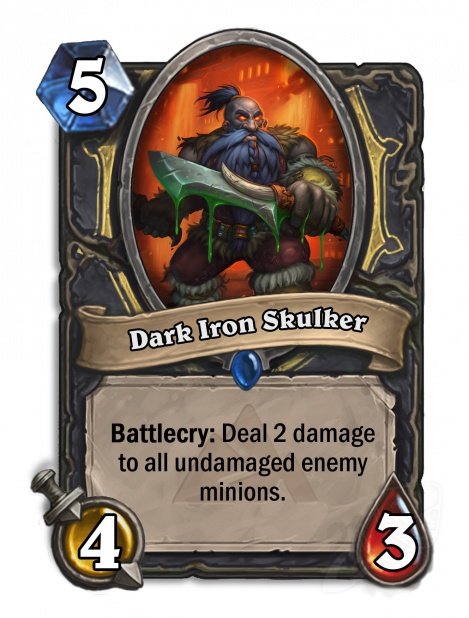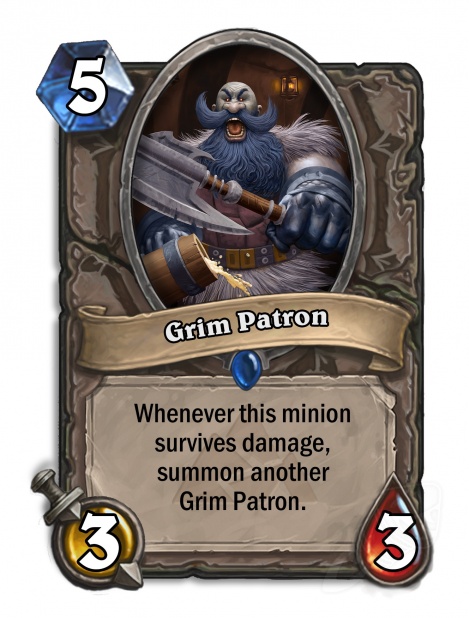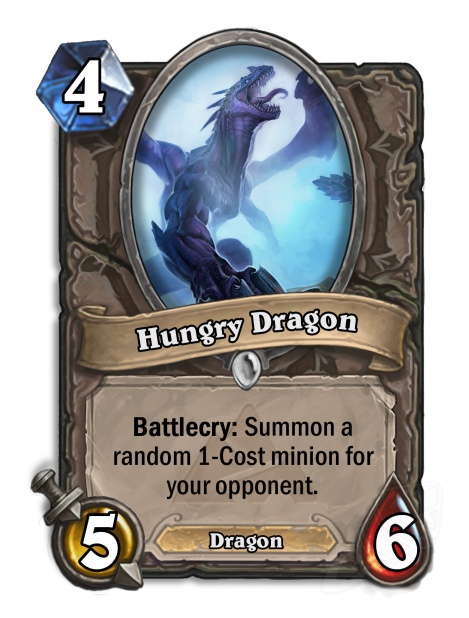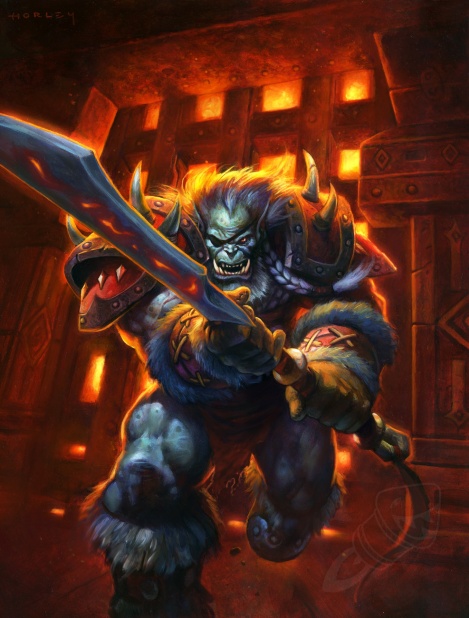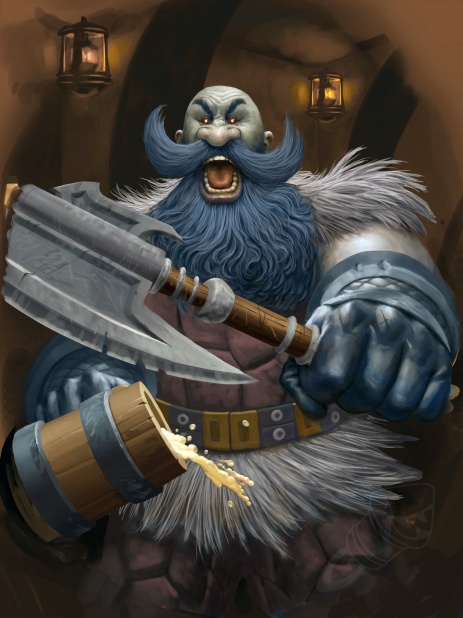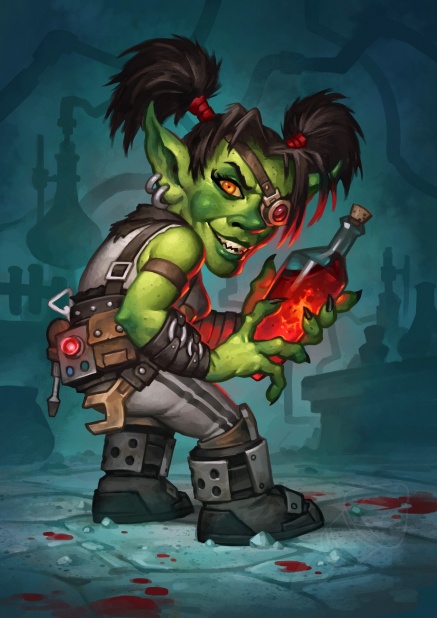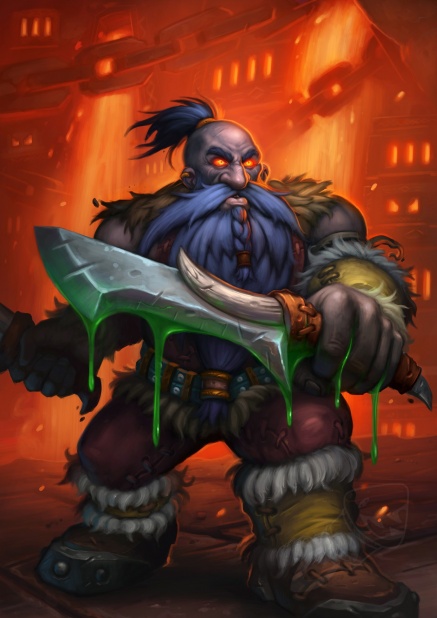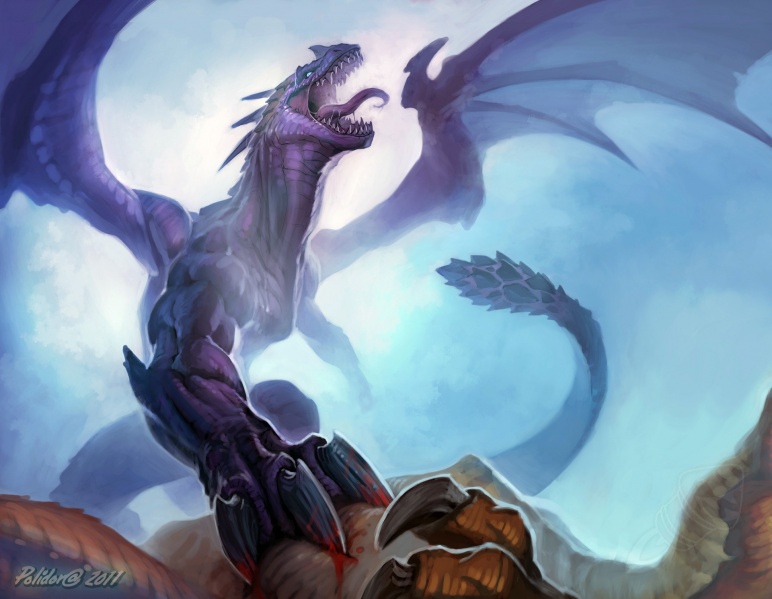 Blackrock Mountain is the second Hearthstone: Heroes of Warcraft Adventure. This single-player mode will challenge duelists to build decks, adapt strategies, and conquer new villains as they strive to add new cards to their collection!
Based On Warcraft Lore
The inspiration for this adventure comes from one of the most treacherous of areas in all of Azeroth—Blackrock Mountain. Deep within its fiery depths, Ragnaros and Nefarian wage a brutal war for ultimate control of the mountain, and in doing so, have brought in malevolent creatures from all sides of the conflict to do their bidding. In this new Adventure, players will encounter many of the same Dark Iron dwarves, flame elementals, and dragons as those found deep within several classic World of Warcraft instances including Blackrock Depths, Molten Core, and Blackwing Lair.
In the [Blackrock] Mountain
Much like with the first Adventure, Curse of Naxxramas, the wings of Blackrock Mountain will open one at a time over a one month period. Players will be able to select Solo Adventures in the Hearthstone menu to access a new wing, opening up opportunities to duel all-new bosses and add even more cards to their collection.
Sinister bosses guard each wing of Blackrock Mountain and players will be rewarded with sizzling new cards for each vile villain they defeat. A total of 31 new cards can be earned upon completing this epic Adventure. After players earn Blackrock Mountain cards, they can be added to their constructed decks for use in other play modes. If players want their newly acquired cards to shine a little brighter, they'll even be able to craft shiny golden versions.
Class Challenges
These challenges will test players' skills with each class in duels using a specific premade deck. Emerge victorious to earn a Blackrock Mountain-themed card (one of the 31 new cards available in this adventure) for that specific class.
Heroic Mode
After defeating each wing, players can take on the far more challenging Heroic Mode. These fights are almost unfairly difficult, so unconventional decks and bold strategies may be required to conquer each fearsome challenge. Defeating Heroic Mode will grant the player bragging rights—and an exclusive Blackrock Mountain card back!
The Arena
After each wing is released, the cards available in that wing will be added to the Arena mix for everyone to play with, regardless of whether they've played through the Adventure.
Getting Down to Business
Those who wish to delve deeper into the molten corridors of Blackrock Mountain will be able to purchase access to each subsequent wing with their hard-earned gold or with real money! Players will also be able to preorder Blackrock Mountain, and will receive an exclusive card back that they can use immediately. Blackrock Mountain: A Hearthstone Adventure can be explored by the bravest duelists in April.
Back to TopBlackrock Mountain Press Release
BOSTON, MA.—March 6, 2015—Blizzard Entertainment revealed today what's in the cards for Hearthstone®: Heroes of Warcraft™ —an all-new Adventure that will challenge brave duelists to venture forth from the comfort of the tavern and plunge into the depths of Blackrock Mountain™! The newest addition to Hearthstone's Adventure Mode will introduce a slew of new hot-headed bosses to put players' dueling skills to the test.
The Blackrock Mountain Adventure thrusts Hearthstone players into the middle of a war between powerful forces battling for control of the mountain. There, duelists will encounter fierce minions, including Dark Iron dwarves, fire elementals, and dragons, before facing off against iconic menaces from the Warcraft® universe, such as Ragnaros, the Firelord. Card-slingers who take down these villains will reap a mighty reward—31 scorching new cards inspired by the legendary mountain and its denizens, bringing a wealth of new tactical options to the ever-evolving Hearthstone metagame.
Coming this April to PC, Windows and Android™ tablets, and iPad®, Blackrock Mountain will open up one wing per week over the course of a month. As with the game's first Adventure, Curse of Naxxramas, it will be accessible for either 700 in-game gold per wing or $6.99 per wing, with the entire Adventure purchasable for $24.99. Further details, including specific launch timing, will be announced in the weeks ahead. Preorders (real money only) for Blackrock Mountain will be available starting March 19, and will include an exclusive card back to those duelists ready to take on what lies within the mountain when it opens.
To read up on all things Blackrock Mountain, visit
www.playhearthstone.com
.
Back to TopBlizzard's Official Post
---
The smoldering Blackrock Mountain looms on the horizon. Elementals, dwarves, and dragons lie in wait within … and they'll be ready for you to unearth in Hearthstone's second Adventure Mode, Blackrock Mountain, announced today at PAX East!
---
Blackrock Your World
Blackrock Mountain is home to a wealth of creatures with a
burning
desire to meet you: From the elementals of the Molten Core that find
1300°F "comfortable" to the dragons that lie in wait within Blackrock Spire, Hearthstone's second adventure mode pits players against single-player bosses 
and their unique abilities that are guaranteed to put you in the hot seat.  Each boss within Blackrock Mountain has unique cards at their disposal, and they're guaranteed to challenge any adventurer ready to brave the challenges within. A total of five unique wings make up the massive expanse of Blackrock Mountain, and each wing is a unique experience to one of the five iconic zones found within it.
Cards Too Hot to Handle

Battling your way through the unique wings of Blackrock Mountain will reward players will all-new Hearthstone cards to add to their collection! Once these cards have been earned by defeating each individual Blackrock Mountain boss, they can immediately be added to your deck. 31 new cards will be added with Blackrock Mountain!
Delving into Blackrock Depths
Players that enter the adventure will immediately be greeted by the Dark Iron Dwarves that dwell deep within the depths Blackrock Mountain. They're a bit hot-headed, but can you blame them; there's no air conditioning in Blackrock Depths! If you're thinking about grabbing a refreshment at the Grim Guzzler Bar while you're there, keep your cards ready – a good ol' fashioned Hearthstone brawl could break out at any time!
Rockin' New Game Board!
Blackrock Mountain has its own unique game board that you'll battle on while you're in the Adventure. Best of all, as soon as Blackrock Mountain is hot off the presses, the game board will be a part of the normal board rotation in Play and Arena modes! What new surprises await you?
---
New Class Challenges
If you enjoyed the class challenges within Curse of Naxxramas, they're back with a vengeance in Blackrock Mountain! Nine new class challenges are prepared for you to put your skills with a specific class to the test.  Conquering these Class Challenges will reward you with new class-specific cards to add to your collection.
Rock the Heroic Modes
Prepare to fight fire with even more fire! Once you're defeated all of the bosses within any given wing for the first time, you'll unlock the Heroic mode of that wing. Heroic mode bosses do not play fair – they are significantly more difficult than their normal mode versions, and they will prove to be a challenge for even the most veteran Hearthstone players.
Defeating all of Blackrock Mountain's bosses on Heroic mode will unlock a new card back for your collection.
Fortune Favors the Boulder
Blackrock Mountain will unearth its secrets over the course of 5 weeks. Starting with Blackrock Depths, each wing opens one week at a time with a new wing opening each week, until all five wings are open.
Each wing within Blackrock Mountain can be purchased with in-game gold or real money, following the same pricing as Curse of Naxxramas. Each wing can be purchased for 700 gold or $6.99 USD. Blackrock Mountain bundle pricing is also available – the bigger the bundle, the bigger the discount! Purchasing wings in bundles does not unlock Blackrock Mountain wings faster than the one-wing-a-week schedule, but it does ensure that you'll be able to dive into the next challenge and earn new cards as soon as they unlock.
As each wing is released, the cards contained within each wing will also show up in your Arena picks, even if you have not earned them for your personal collection yet.
For those of you that can't wait to get your oven mitts on Blackrock Mountain, pre-orders of the full Adventure will be available starting March 19! Pre-ordering Blackrock Mountain not only allows players to dive into the Adventure as soon as it becomes available in their region, but it also cooks up a unique card back for their collection! This card back is only available to players that pre-order Blackrock Mountain.
Out of the Frying Pan
Can you take the heat? Grab your fire resistance gear and get ready to brave the mountain! Blackrock Mountain is planned to release simultaneously for PC, Mac, iPad, and Android tablets next month!
---
Blizzard's Twitch stream has started! Check it out here, and we'll be updating our
new Blackrock Mountain page
and this news post as the details are revealed!
The Stream is down. It should be available to rewatch shortly here.
Overking was thrilled to be invited along to Blizzard HQ to preview all the cool new stuff Overwatch is sharing at PAX! We've got two new heroes and a new map, check it all out
here at our sister site, Overking
!