Over the last few months the Hearthhead staff has been hard at work on bringing our website up to date with current design standards, creating new features, and building a better experience for you users. It's been a very long process and we've had to remain relatively tight lipped about it, but now that we're getting closer to releasing the redesign, we thought we'd share a few teasers of what's to come!
One of the most important parts of Hearthstone is deckbuilding and we think it's about time our own deckbuilder reflected that. We've completely rebuilt it from the ground up with an all new smart filter, better filtering options, and one of the best looking designs you'll find in the community right now.
By default, all filtering options are disabled. Want just class cards or just neutrals? Easy to do. Need to find spells with an even mana cost for The Great Stone of Challenge Tavern Brawl? Easily done. Even the set filter now displays in a format exactly like Hearthstone, allowing you to quickly find just Standard, Wild, or further narrowing it down to a specific set.
We made the decision to paginate from left to right - rather than up and down - with buttons at the top for quick browsing. No more infinite scrolling!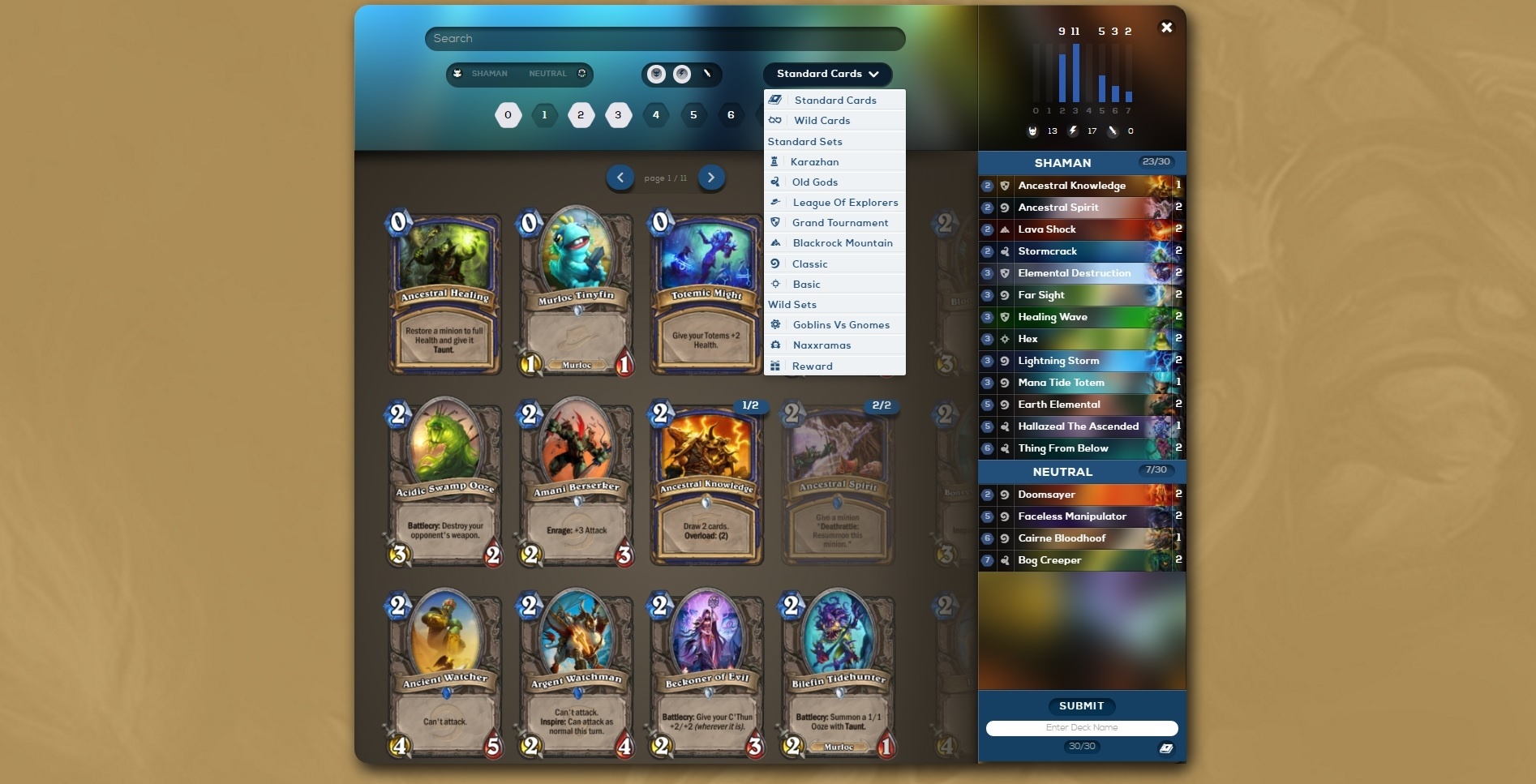 Meanwhile the decklist itself has also gotten some attention. A much cleaner presentation means we've removed the color overload of the old Hearthhead in favor of a design that still conveys the pertinent information, but also showcases the individuality of each card. Now you can quickly find exactly what you're searching for in the decklist by looking for common colors. The greens of

Rockbiter Weapon
are very, very different from the orange hues of

Doomsayer
. Plus the card art itself is more prominent than we've ever had it before!
The smart filter works just like you'd expect it to. Search "Taunt" to find all of the appropriate minions, "Dragon" to find all of that race, or even specific words or phrases like "Transform."
All of this will make our deckbuilding experience the best, and cleanest available and we think you'll agree once you get your hands on it!
Note: We also store your deck as you're creating it just in case you accidentally hit the back button or close the window. No more losing your progress, just make sure you're using the same browser that you were when the error occured!
Our homepage should be more than just the place for you to find the latest news and our current editorials. We want the home page to give you a taste of everything Hearthhead has to offer and a large part of that is our deck database. Therefore we've decided to add a deck filter which gives you a quick look at the hottest decks on the website currently. It's paginated, can be filtered by class, and sorted by variety of options including narrowing the field by deck archetype!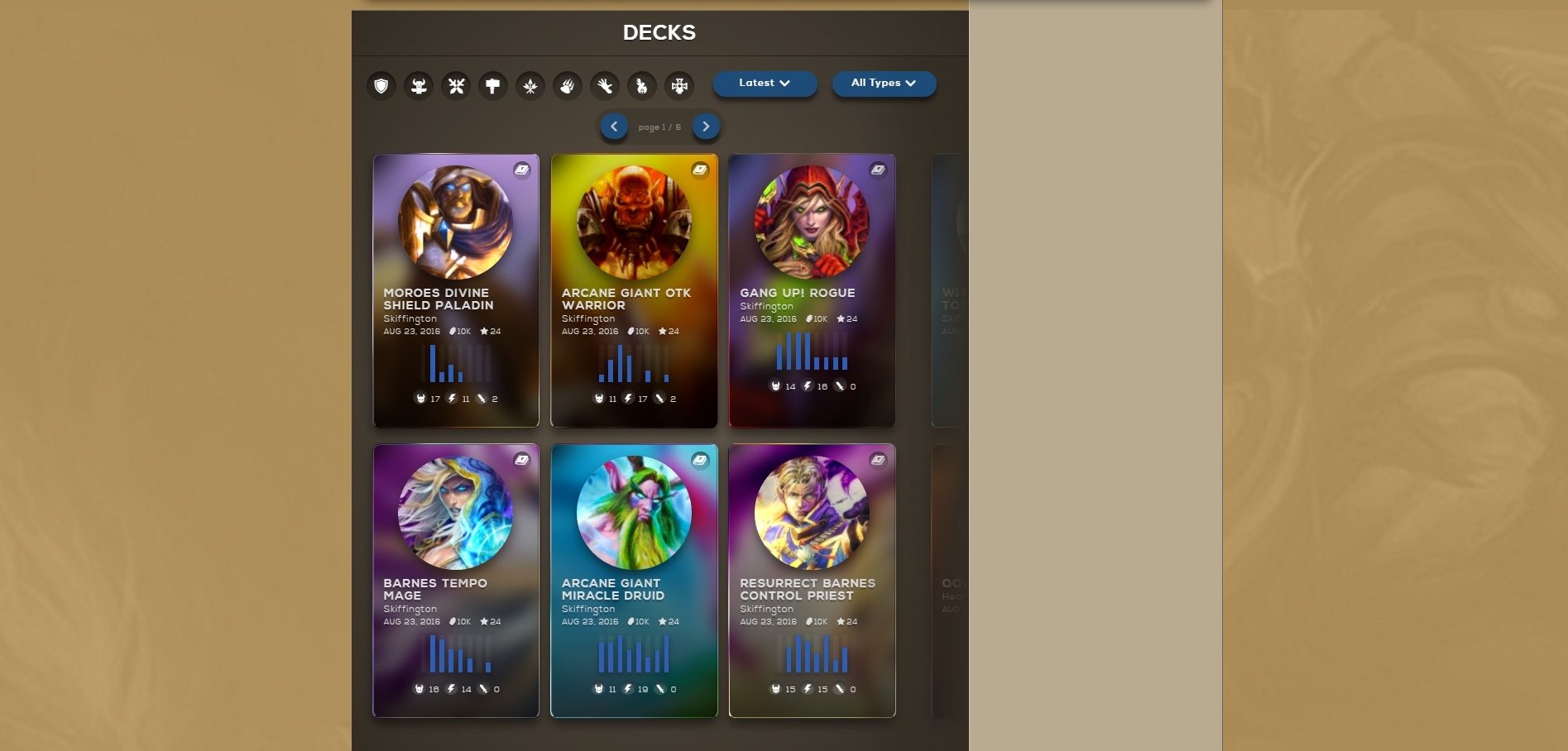 Feeling like playing Mage or Warlock today? Maybe you just have a quest to win games as one of the two but aren't sure which to play? You can refine the filters to match exactly what you need including deciding which decks should display first. So whether you want the hottest decks from the last week, so they're guaranteed to have taken the last wing of Karazhan into account, or just something that's been highly rated this month, the options are there for you.
Each tile is easily differentiated by a Wild or Standard mark in the top right corner with basic information ready at your fingertips including the mana curve, how much dust it costs, and the division of minions, spells, and weapons.
Not sure whether you want to click or not? No worries. Just hover over the tile for a quick view of what the deck has to offer. Here you'll see a description for the decklist, if available, and some more detailed stats. Clicking through will bring you to the deck view page which we're not quite ready to show off yet, but trust us, you're going to like what you see!
Of course this is just an alternative to our more in depth deck database page where you can do a lot more filtering to find what you're looking for. Stay tuned! We're very excited to start sharing more and more of the design before finally giving you a chance to try it all out for yourself sometime in the near future.
Have questions, comments, or feedback? Let us know in the comments! We're anxious to hear what you have to say and will be around all afternoon to answer the questions that we can. As a note, these images come from a work in progress so they're still subject to change.