Just 2 weeks in to the new year, and Blizzard has announced that there will be a 2015 Hearthstone World Championship! The finals will take place in fall 2015, but they haven't yet said if it will be at BlizzCon. Whether there will be a BlizzCon in 2015 hasn't yet been confirmed by Blizzard.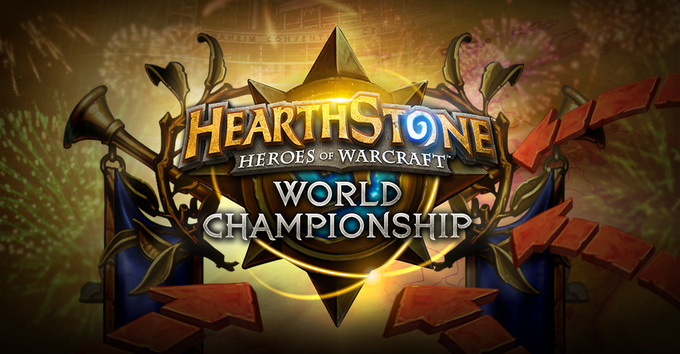 ---
The road to the Hearthstone World Championship begins anew! As of January, players are eligible to collect points from Ranked Play, Fireside Gatherings, tournaments, and more to earn themselves a spot to the 2015 Hearthstone World Championship. More information can be found below.

About

The Hearthstone World Championship is the largest professional Hearthstone tournament in the world, where 16 exceptional card-slingers from around the globe come together to duel for glory, prizes, and the esteemed title of Hearthstone World Champion. This massive tournament is preceded by months of Ranked Play seasons, invitational tournaments, community tournaments, and Fireside Gatherings where players compete for points used to secure coveted spots in Regional Qualifier events.

World Championship

The Hearthstone World Championship will take place at the end of fall 2015, featuring 16 of the world's best players. The Hearthstone World Championship's tournament format will be announced at a later date.

Regional Championships

The Hearthstone Regional Championships decide the 16 players that will attend the Hearthstone World Championship. The Americas, Europe, China, and Asia-Pacific regions will each have Regional Tournaments where eight of the most talented card-slingers from their respective regions will compete for four representative spots at the Hearthstone World Championship. The Americas region consists of North America and Latin America, while the Asia-Pacific region includes: Korea, Taiwan, Southeast Asia, Australia, New Zealand, and Japan.

Regional Qualifiers

The Hearthstone Regional Qualifiers will take place in the fall of 2015, just before the Regional Championships. Players from North America, Latin America, Europe, Southeast Asia, Australia, New Zealand, China, Korea, Japan, and Taiwan will duel at regional 40 player double-elimination tournaments. The top eight players who emerge from the tournaments victoriously will clench a spot at their corresponding Regional Championships. Players will be seeded into the 40 player tournament based on their standing in the 2015 Hearthstone point structure.

Point Structure

Duelists are able to obtain Hearthstone World Championship 2015 qualifier points through Ranked Play seasons as well as through Blizzard sanctioned tournament s. Points received are based on performance, with better results awarding more points. Players who achieve a minimum of 2 points by the end of July will be eligible for their regional Last Call Tournament, which feeds into their corresponding Regional Qualifiers. The 23 players per region with the highest point totals will receive advanced seeding in their Regional Qualifier and do not need to play in the Last Call Tournament in order to qualify.

Fireside Gatherings

Select Fireside Gathering events will host Blizzard-sanctioned Hearthstone tournaments. The winners of these tournaments will be entered into the Fireside Gathering Championship, and the Grand Champion will be awarded a seed directly into their corresponding Regional Qualifier.

Residency Requirements

Participation in a Regional Championship, Regional Qualifier, or Fireside Gathering is dependent on proof of residency or citizenship within the given eligible region.
This thread will continue to be updated with more information. Check back later for more information!
Blizzard has clarified how many points you get for being at the top of Ranked mode:
---
An
important
update on collecting points for Hearthstone World Championship qualification via Ranked Play:
1st: 50 points
2nd-10th: 40 points
11th-20th: 30 points
21th-50th: 10 points
51st-100th: 1 point
Information on other ways to collect points (tournaments, et cetera) will be available soon.
Remember, points can be collected as of this month!