The Hearthstone community knew we were going to Karazhan, but what we didn't know is that it would be a once in a lifetime party. In One Night In Karazhan, you journey inside Medivh's tower to join the party, but our favorite Mage has gone missing and and now all of his spells are starting to unravel. We must stop the madness and find Medivh before the party is ruined!
The first wing of Karazhan released on August 11, with each consecutive week unlocking another wing.

There is a total of 45 new cards, all of which can be found below.

Those who purchased the entire Adventure within the first week of release received a special Karazhan-themed card back.

Play free prologue mission and earn two of the Adventure's groovy new cards.

Medivh is joining Hearthstone as a card!

Medivh, the Guardian

equips

Atiesh

meaning any class in Hearthstone can now utilize weapons!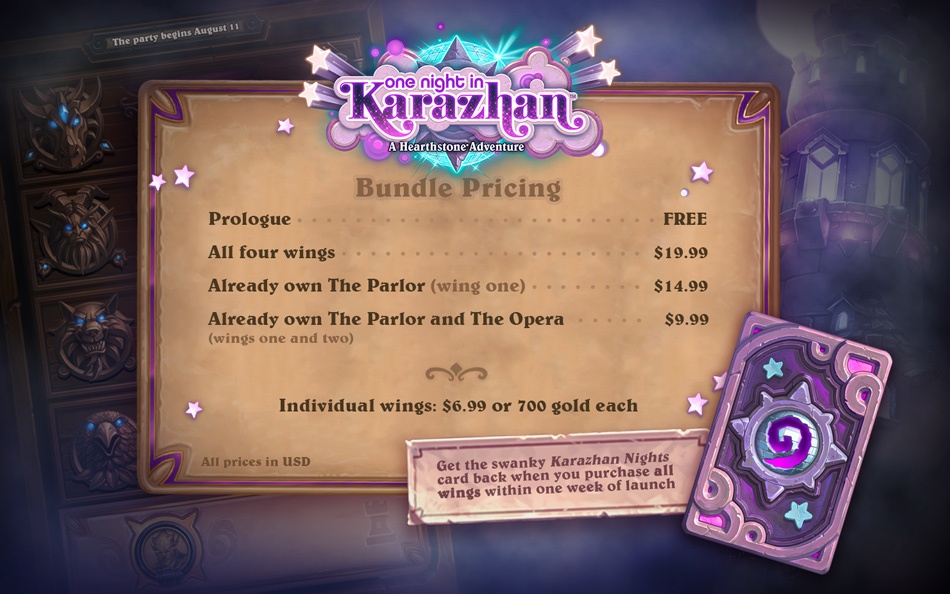 Blizzard has revealed a few card backs below. The former is An Intriguing Invitation, the Ranked Reward for August 2016 to celebrate the set's release. The former is a reward for purchasing all of Karazhan's wings within a week of release.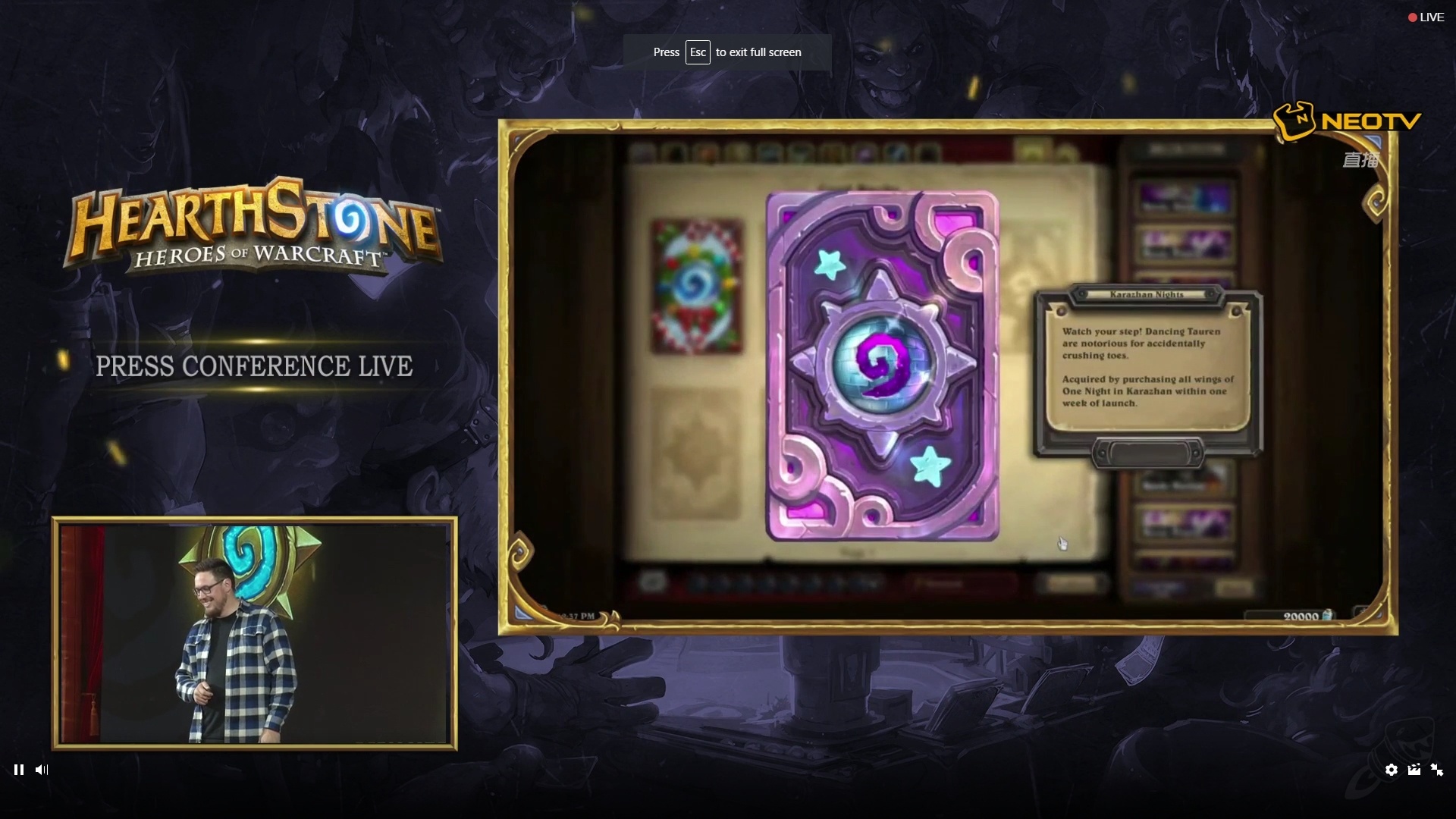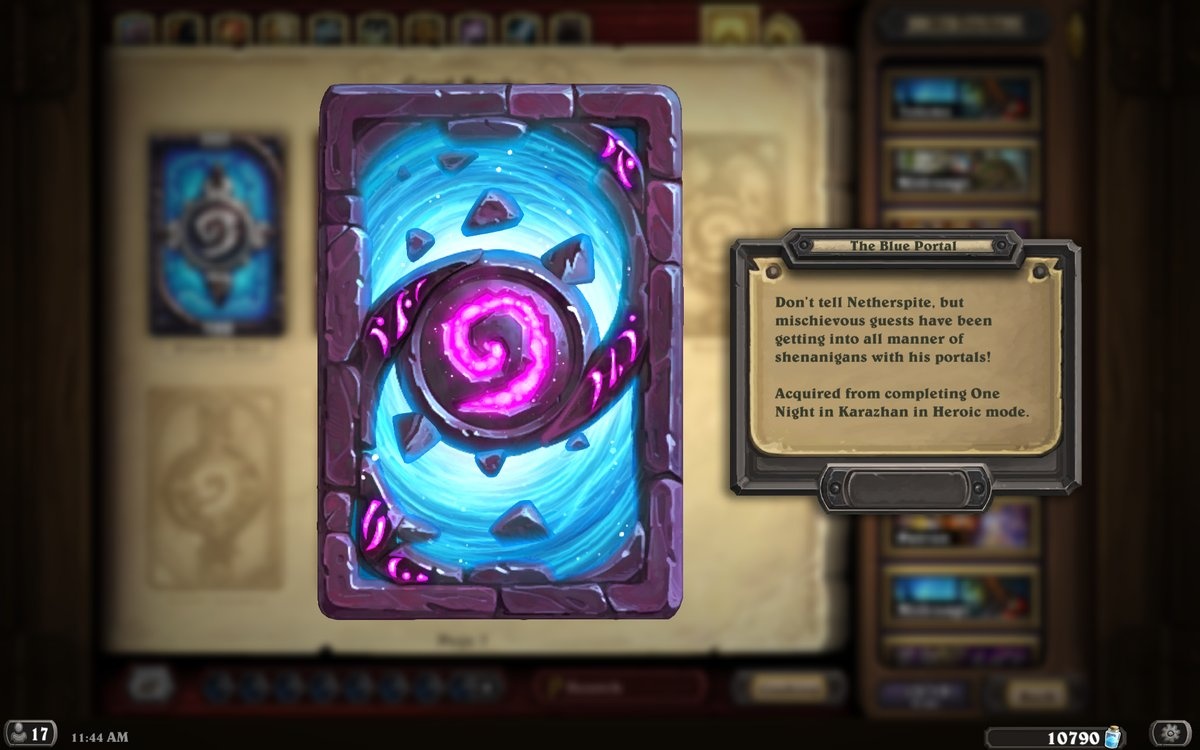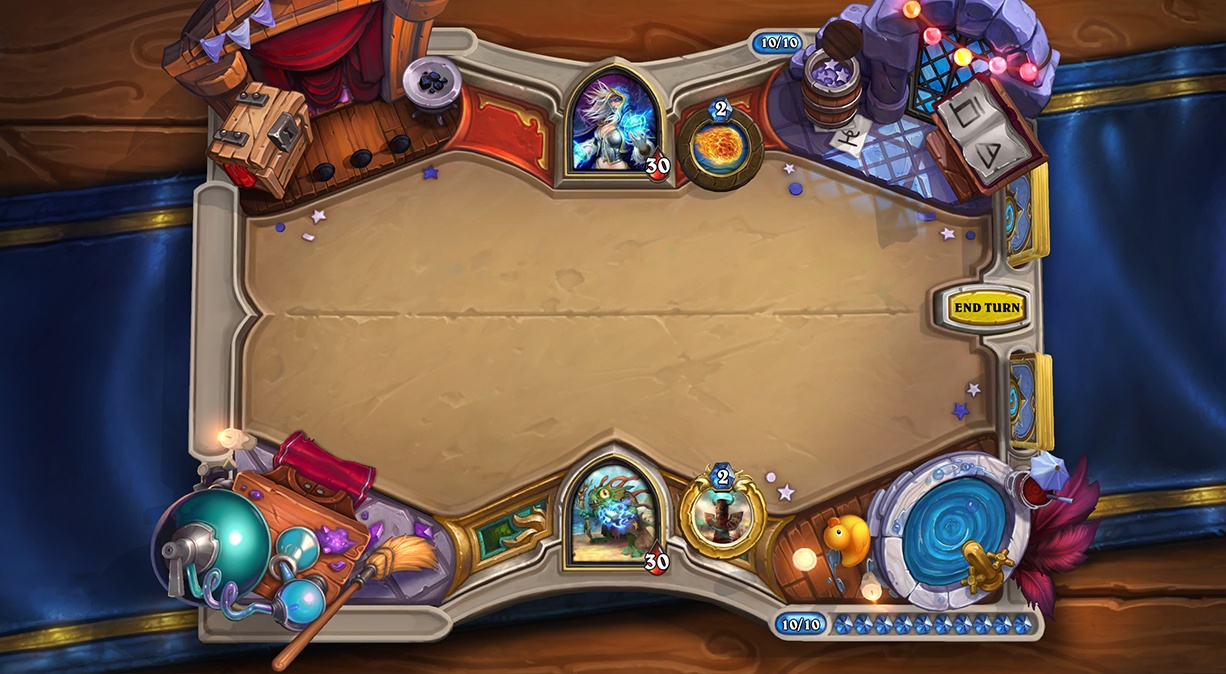 Back to TopFree Prologue Mission + Cards
The lights are bright, the dance floor is open, and the catering is truly magical. The greatest get-together Azeroth has ever seen is about to kick off with a bang; what a shame it'd be if anybody tried to crash this party!

Hero Power - Legion (2): Summon a 6/6 Abyssal.
Play as Medivh against Prince Malchezaar and find out exactly why our host has gone missing!
Back to TopThe Parlor - Opened August 11, 2016
Medivh's animation spells are wreaking havoc in the Parlor! Even the chess set has come to life and is threatening the guests. Looks like Karazhan is about to bear witness to the ultimate test of cerebral fitness.
The Silverware Golem
- "He's a little too enthusiastic about serving dinner."
The Magic Mirror
- The mirror is now insulting the guests!
The Black King
- The chess set's minions automatically attack whatever is across from them. If there are two minions, meaning the size of the board isn't equal, it'll attack them both.  
Back to TopThe Opera - Opened August 18, 2016
A minor hiccup like the disappearance of the evening's host won't stop the Opera's performers; the show must go on! Good thing you're here to lend stage manager Barnes a hand in keeping his production from going off-script.
Julianne
- Can you stand up to true love?
Big Bad Wolf
- Your minions shrivel in fear, can you still take down the Big Bad Wolf?
The Crone
- Dorothee, a 0/10 minion, gives Charge to minions on her left and Taunt to those on her right. The Crone's hero power reads: Deal 100 damage. Can't be used if Dorothee is in play.  
Back to TopThe Menagerie - Opened August 25, 2016
Nothing wows visitors more than a collection of rare (and super, super deadly) creatures. Normally this collection of fangs, claws, and angry maws is kept in check by Medivh's reliable Curator, but it seems like he's having an off night. Step in and recapture the beasties before they eat any of the guests!
The Curator
- It's letting all of the creatures loose! Help fix his programming and he'll assist you in wrangling all of the escaped creatures before you move on.
Nightbane
- "Uncontrolled magic warped his mind."
Terestian Illhoof
- "Most dangerous exhibit. Approach with caution."  
Back to TopThe Spire - Opens September 1, 2016
This is where Medivh opens portals to far off lands. Now Netherspite has no master to watch over him and he's continued to experiment.
Netherspite
- Summons portals on the battlefield to empower himself. Block them with minions and steal away their bonuses!
Shade of Aran
- An old crone who seeks to keep visitors out of Medivh's private chambers.
UNKNOWN FINAL BOSS
- Who stands between you and victory?  
Medivh equips the legendary staff Atiesh!